A Drawing & Storytelling Game
Shape your Story
Regular price

Sale price

Rs. 599.00
5-99 YEARS | 1 or more
Family Game-Night, Homeschool, Playdates, Classroom, Party, Travel, Office
7 Days Easy Returns* T&C's apply
Free shipping above Rs.500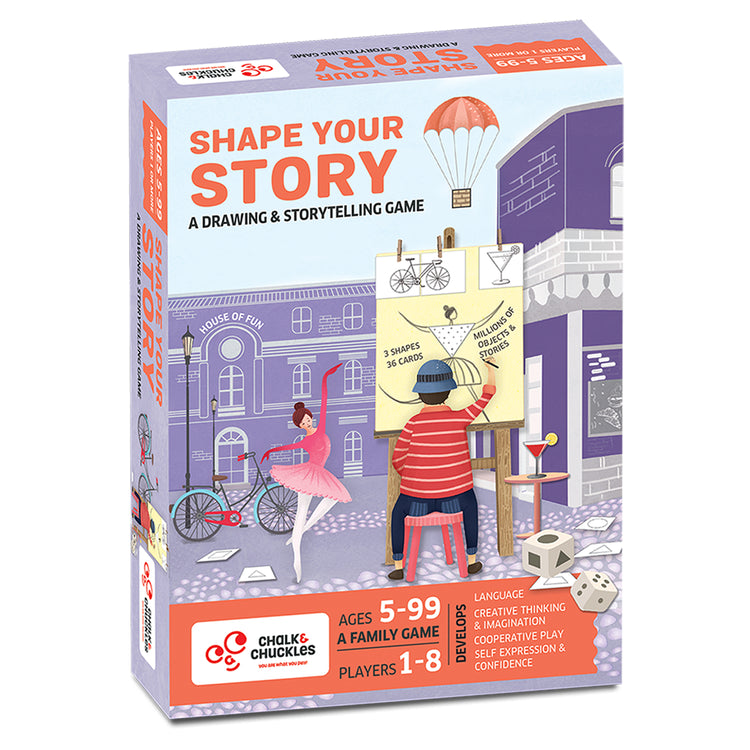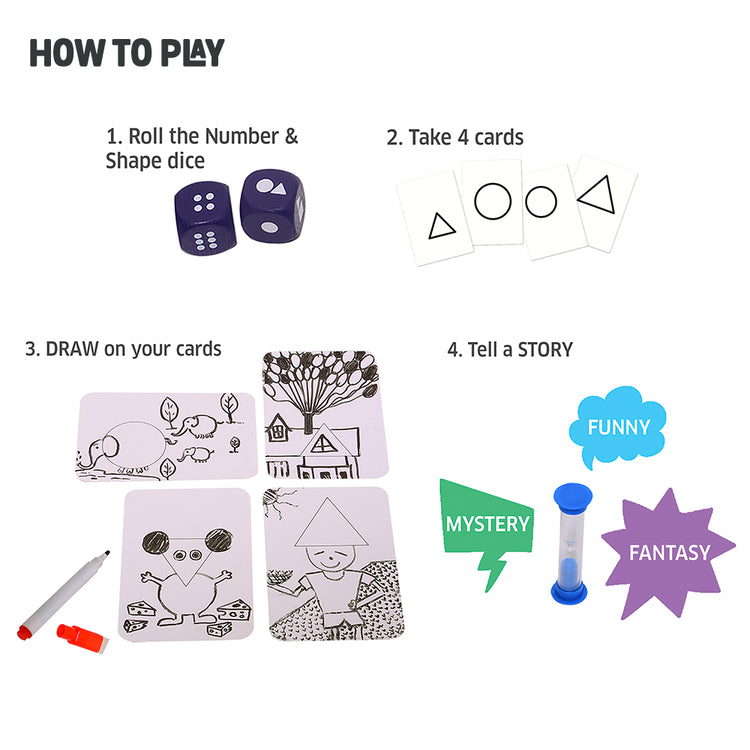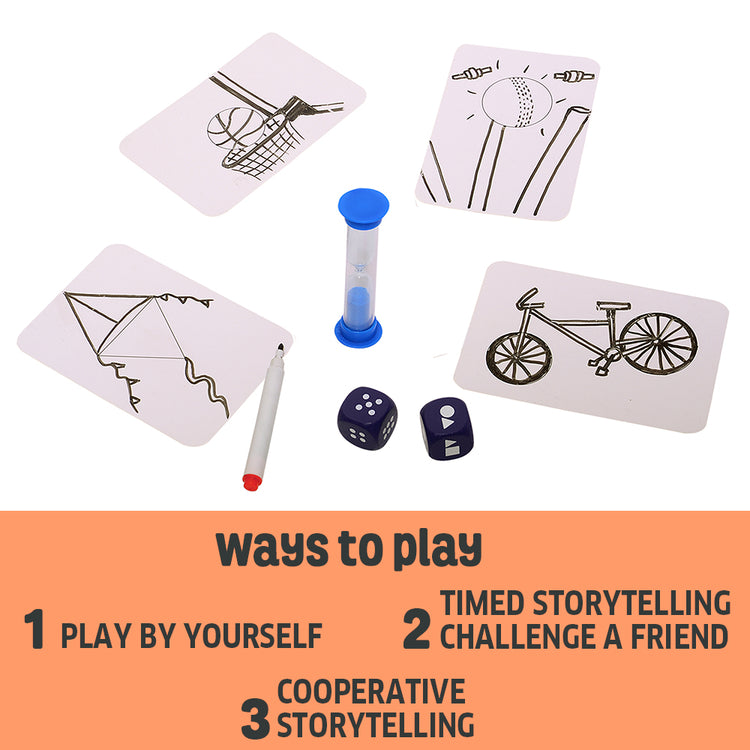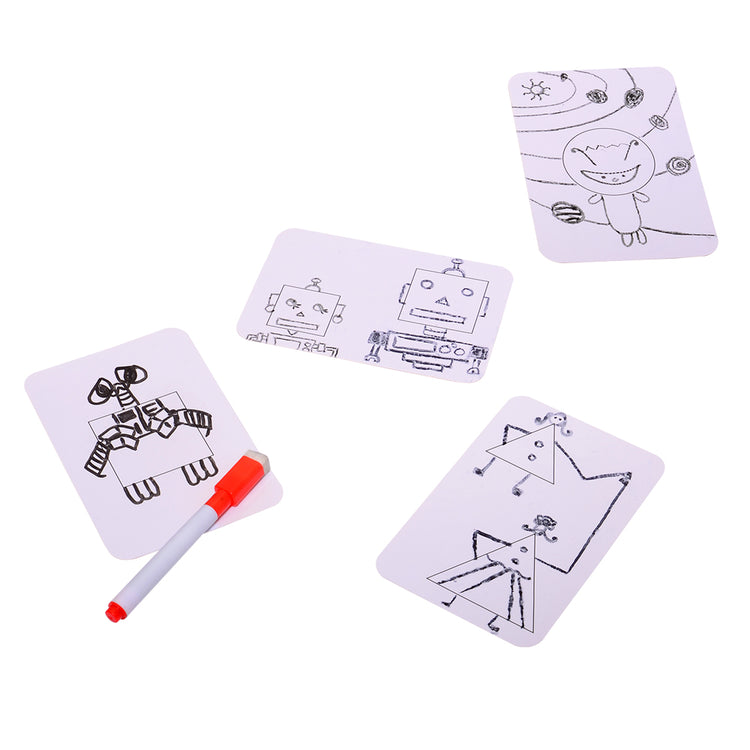 The Details

From the towering skyscrapers to the bicycle on the road to the hangers in your closet. Wherever you are – inside or outside – there are shapes to discover that tell a story. The circle, square & triangle in 36 cards lend themselves to thousands of drawn objects and millions of stories in an exciting drawing and story-telling game to play with friends, family, or by yourself.


No reading required, only imagination. Have fun even if you're not an artist! Promotes creative thinking, doodling, self-expression, confidence, language and social skills. 

Create new stories every time you play & capture your drawn stories for everlasting memories! Great boredom buster. Also suitable for preschoolers who like to draw and express themselves.
How to Play?

Roll the dice to decide the number of cards and the shapes. Use the 3 shapes (Circle, Triangle, and Square) to draw objects/characters.

3 ways to play
1. Draw and tell stories by yourself.
2. Challenge one another in Timed Tales
3. Create stories together in a game of Cooperative storytelling
What's in the Box?

1 Shape die, 2 Number dice, 36 Shape Cards, 2 Wipe-erasable markers, 1 Sand Timer, Instructions
Product Specifications

Box measures (cm): 16.5 x 23 x 4.5

Weight (g):508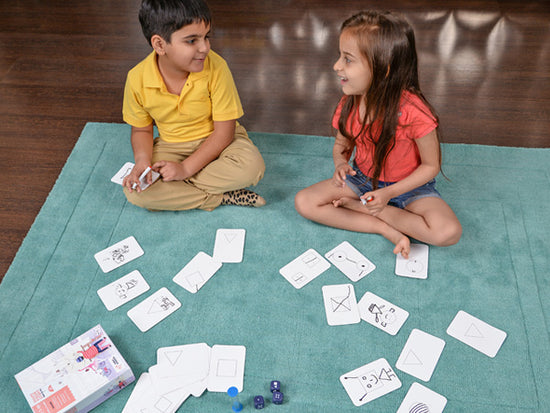 GIFTS KIDS LOVE
A unique storytelling game that combines drawing and storytelling. Draw your objects and share your stories. Funny, Sweet, Whacky, Mystery or Fantasy- Your mood, your story!
FUN FAMILY GAME
A game that brings the whole family together from the grandparents to the toddlers! Play at birthday parties, playdates and family game nights. Create stories and memories that last a lifetime.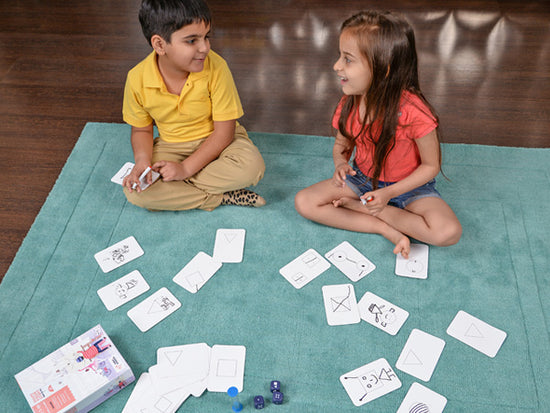 QUALITY GUARANTEE
We want you to be happy and satisfied with your purchase from Chalk and Chuckles. If we do not meet your expectations in either quality or design, please contact our customer service.
WORKING TOWARDS SUSTAINABILITY
We make our products from recycled board & print with non-toxic Soy inks. We try to minimise the use of plastic in our packaging. We are now striving to reduce our box sizes. Smaller boxes means less emissions, less packaging & a lower carbon footprint.
OUR PROMISE
1. Potential

2. Goodness

3. Quality
Each of our games has the POTENTIAL to bring out the best in every child. Play to your strengths or play to build new strengths, we've got a game for everyone. You are what you play!
Join us in the playful revolution of raising the next generation of leaders. Leaders who are not only smart & intelligent but also care about the COMMON GOOD and the world we live in! Our games reflect our commitment to family, community, cooperation, diversity, and empathy.
We are committed to creating sustainable, safe, and non-toxic toys that meet all the Indian & International quality standards. We care about the products we deliver to you, and equally about the world we all live in. Our products are designed with such care that they can be passed on and used repeatedly.