A Game of Characteristics
Eye See- The Animal World
Regular price

Sale price

Rs. 399.00
3-6 YEARS | 1-4 Players
Family Game-Night, Playdates, Classroom, Homeschool, Travel
7 Days Easy Returns* T&C's apply
Free shipping above Rs.500
Hurry, only 10 items left in stock!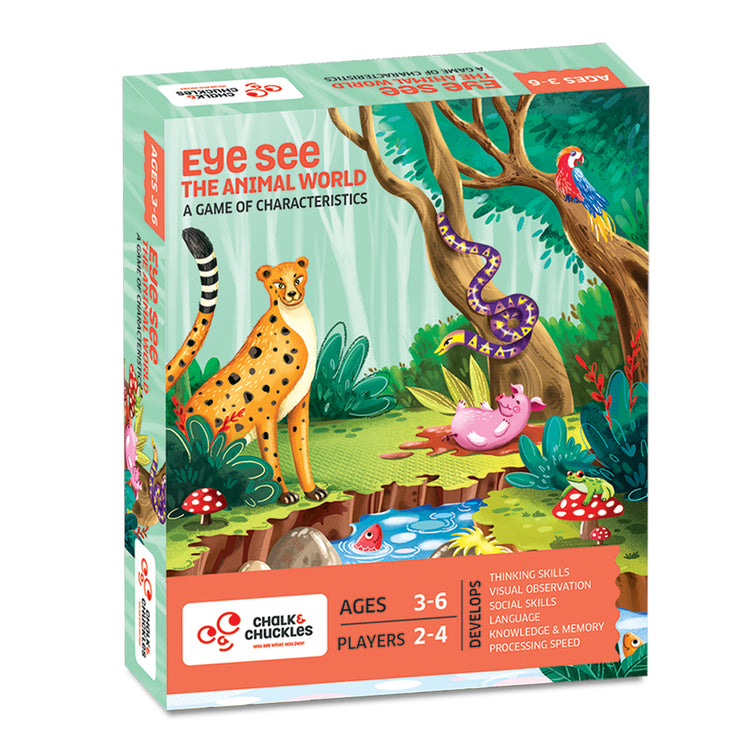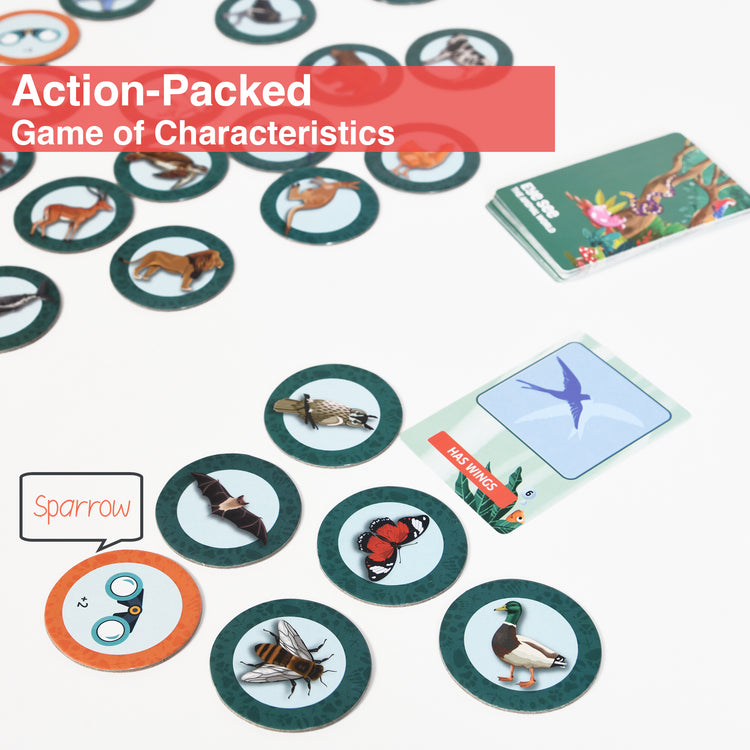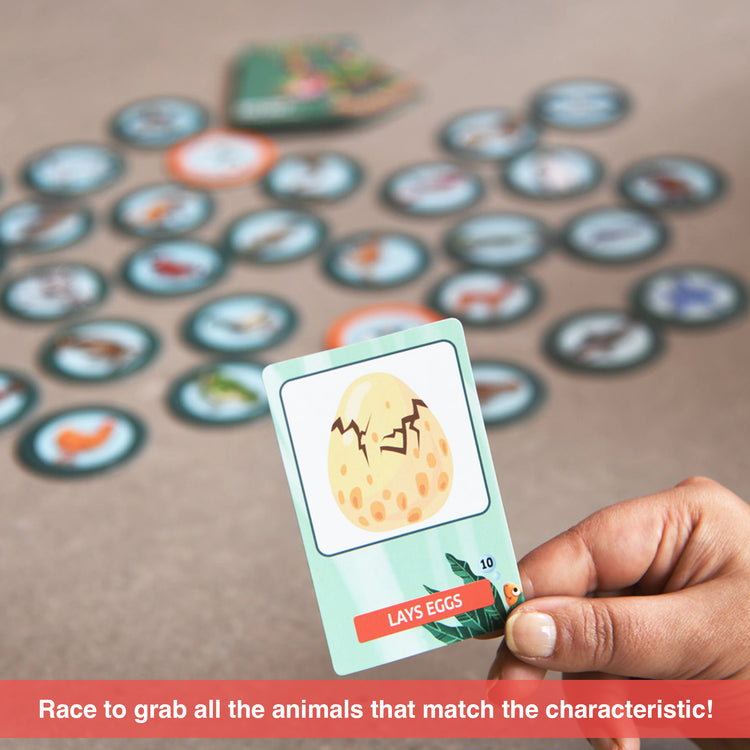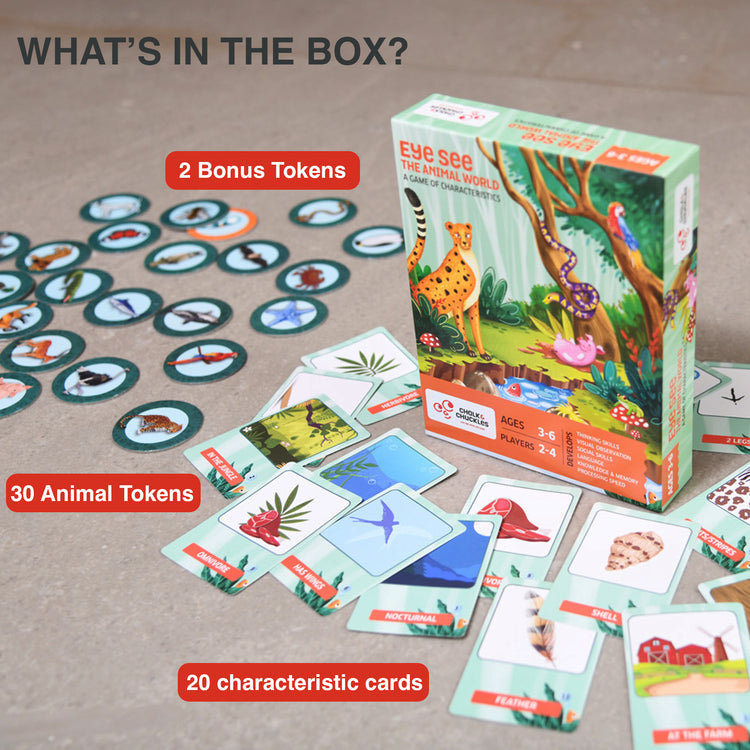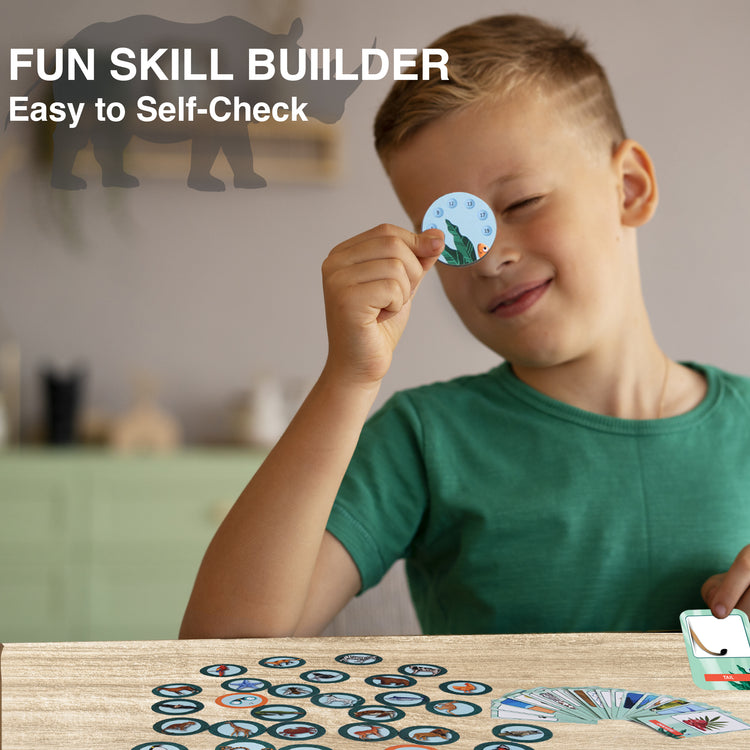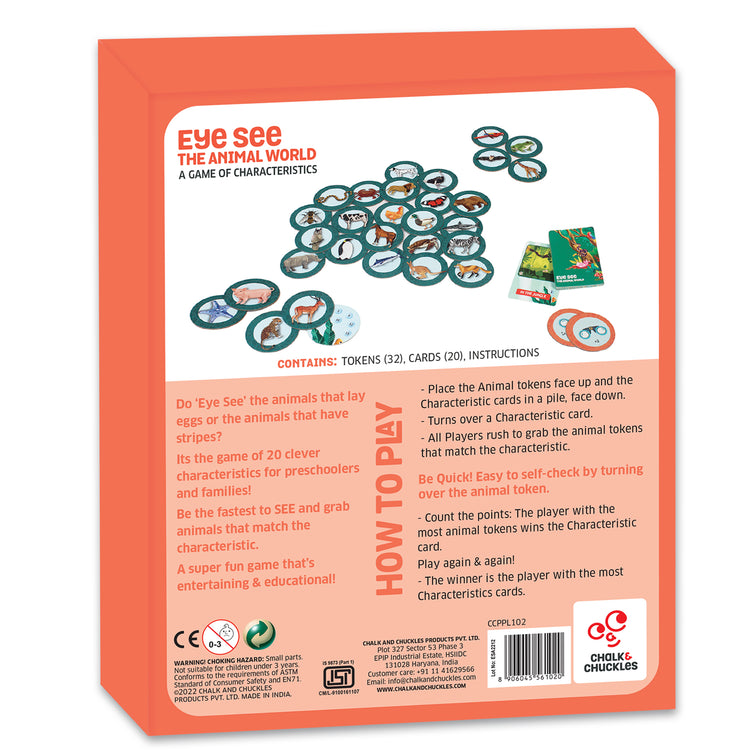 The Details

Do 'Eye See' the animals that lay eggs or the animals that have stripes? It's a game of 20 clever characteristics for preschoolers and families!  Be the fastest to SEE and grab animals that match the characteristic. A super fun game that's entertaining & educational!

 Learn about 20 clever animal characteristics in an animal game full of wild, farm, water animals and birds.


It's easy to learn and simple to play with a spot-it game mechanic. It only takes a few moments to explain and has quick gameplay. Easy to self-check by turning over the animal token.
How to Play?

EASY TO SET-UP & PLAY
Spread all the Animal & Eye See Extra Point tokens (32) face-up in the centre of the table. Shuffle the characteristics cards and keep them on the side.

EVERYONE PLAYS TOGETHER
1. Turn over the top characteristic card.
2. All players rush to pick up animal tokens that fit the characteristic on the card. (Collect as many animals as you think fit the criteria on the card.)
3. Think you know of an animal that fits the card but is not part of the game tokens? Name it and grab the orange token for extra points.

COUNT YOUR POINTS
Easy to self-correct. Score 1 point for each token you picked correctly and 2 points if you picked up a red token.
The player with the maximum score wins the card!

Play again with a new card till you have a winner with 5 cards.
What's in the Box?

32 Tokens, 20 Cards and Instruction Manual
Product Specifications

Box measures (cm): 19 x 15 x 3.8

Weight (g):210
LEARNING THROUGH PLAY
Chalk and Chuckles educational games and toys promise fun with learning. Play together to support children's social skills, emotional well being and cognitive skills.
BEST GIFT FOR KIDS
Eye See The Animal World is a super exciting game. Play by yourself or with friends & family. It's a fast-paced game that'll get everyone thinking & rushing to grab tokens at the same time. Even more exciting is the Bonus Speed Token, where you can name an animal not on the table for extra points.
QUALITY GUARANTEE
We want you to be happy and satisfied with your purchase from Chalk and Chuckles. If we do not meet your expectations in either quality or design, please contact our customer service.
WORKING TOWARDS SUSTAINABILITY
We make our products from recycled board & print with non-toxic Soy inks. We try to minimise the use of plastic in our packaging. We are now striving to reduce our box sizes. Smaller boxes means less emissions, less packaging & a lower carbon footprint.
OUR PROMISE
1. Potential

2. Goodness

3. Quality
Each of our games has the POTENTIAL to bring out the best in every child. Play to your strengths or play to build new strengths, we've got a game for everyone. You are what you play!
Join us in the playful revolution of raising the next generation of leaders. Leaders who are not only smart & intelligent but also care about the COMMON GOOD and the world we live in! Our games reflect our commitment to family, community, cooperation, diversity, and empathy.
We are committed to creating sustainable, safe, and non-toxic toys that meet all the Indian & International quality standards. We care about the products we deliver to you, and equally about the world we all live in. Our products are designed with such care that they can be passed on and used repeatedly.