Language Game
Grammar Wise
Regular price

Sale price

Rs. 399.00
6-9 YEARS | 2-4 Players
Family Game-night, Playdates, Classroom, Homeschool, Travel
7 Days Easy Returns* T&C's apply
Free shipping above Rs.500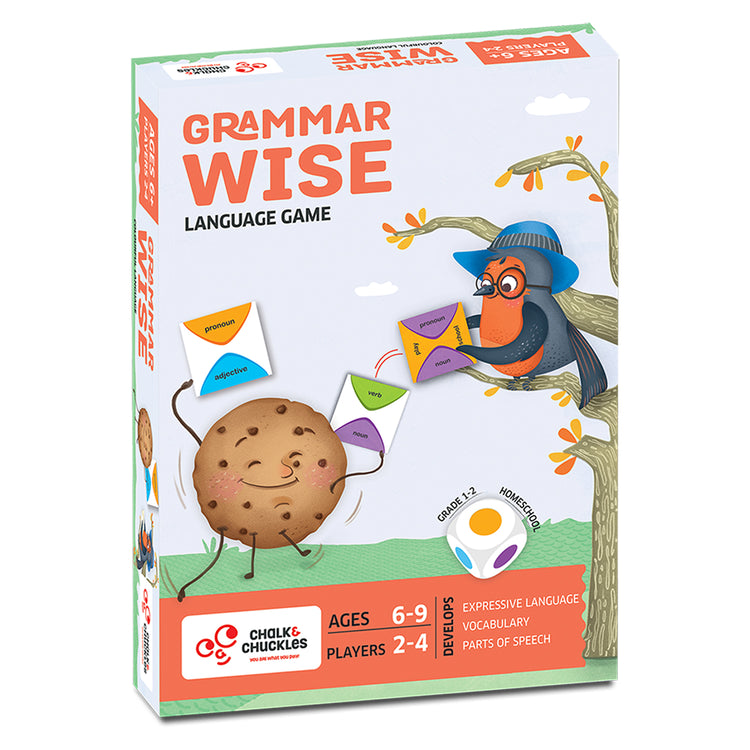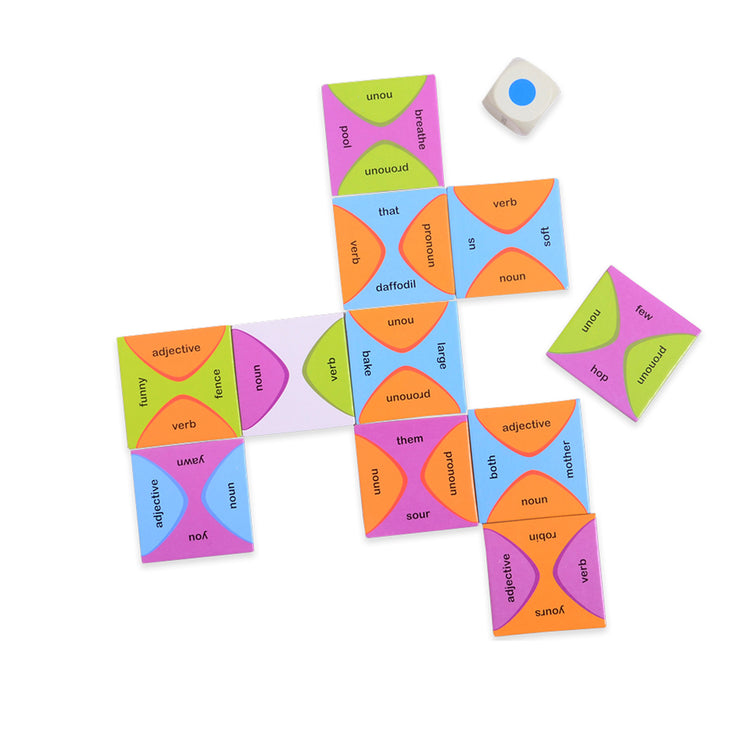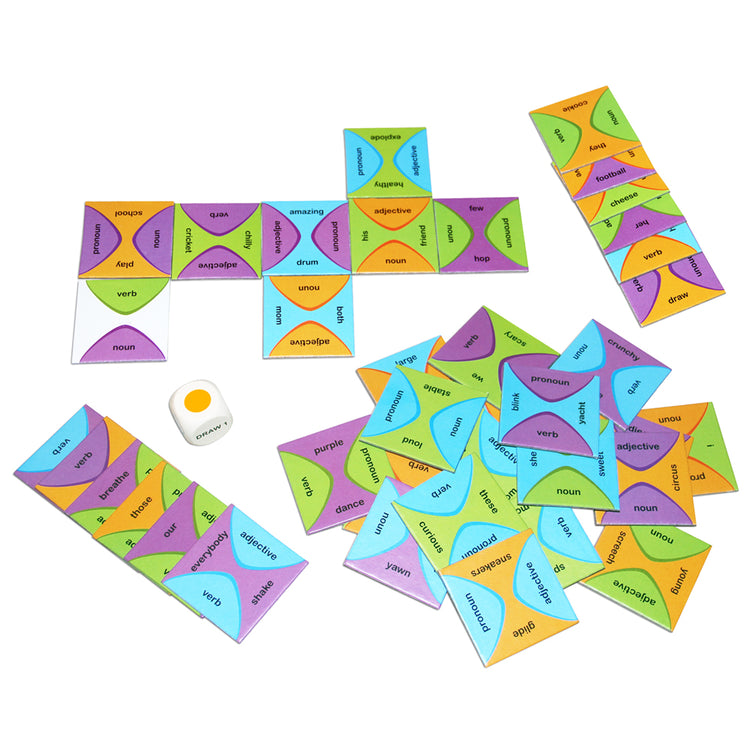 The Details

Mr. Noun, Ms. Pronoun, Mr. Verb, and Ms. Adjective are scattered all over. Get to know them better and test your English grammar. Can you help them find their best-matched friends? And they can help you create new sentences. 

A game that will get you exercising your colour and language muscles at the same time! Provides a fun alternative to repetitive and boring homework practice. A great literacy game and resource for language classrooms.

Whether you are a beginner or a master, learning English has never been more fun! 
How to Play?

- All players take 6 tokens each.
- Start the game by placing a start token in the center & take turns rolling the coloured die. E.g. if you roll blue, match a token to the blue-coloured face of a token on the table.
- If the blue on the table has a part of speech written on it, then you must pick up a word that are examples of that part of speech and place it next to it. eg. Noun-purple, adjective-funny
- If the blue has a word written on it, then you must pick up the corresponding 'part of speech token' and place it next to it. eg. 'yacht' is a 'noun'.
- Once you have added your token to those on the table, you must draw another one. You might have to miss a turn or draw more tokens depending on the roll of the die.
- Keep drawing tokens till there are no tokens left.
- The first player to finish his/her tokens is the winner.

What's in the Box?

40 Cardboard Tokens, 2 Start Cardboard Tokens, 1 Wooden Colour Die, Game Guide with Answers.
Product Specifications

Box measures (cm): 16.5 x 23 x 4.5

Weight (g):280
CLEVER LEARNING GAME
A fun board game for teaching vocabulary to English language learners. Engaging and hands on alternative to worksheets in classrooms or practice at home. Makes English learning easy.
INTELLIGENT SPEECH AND LANGUAGE GAME
An interactive activity that develops knowledge of nouns, pronouns, verbs and adjectives. It builds upon kids ability to identify parts of speech and give examples of them. Great educational gift.
QUALITY GUARANTEE
We want you to be happy and satisfied with your purchase from Chalk and Chuckles. If we do not meet your expectations in either quality or design, please contact our customer service.
WORKING TOWARDS SUSTAINABILITY
We make our products from recycled board & print with non-toxic Soy inks. We try to minimise the use of plastic in our packaging. We are now striving to reduce our box sizes. Smaller boxes means less emissions, less packaging & a lower carbon footprint.
OUR PROMISE
1. Potential

2. Goodness

3. Quality
Each of our games has the POTENTIAL to bring out the best in every child. Play to your strengths or play to build new strengths, we've got a game for everyone. You are what you play!
Join us in the playful revolution of raising the next generation of leaders. Leaders who are not only smart & intelligent but also care about the COMMON GOOD and the world we live in! Our games reflect our commitment to family, community, cooperation, diversity, and empathy.
We are committed to creating sustainable, safe, and non-toxic toys that meet all the Indian & International quality standards. We care about the products we deliver to you, and equally about the world we all live in. Our products are designed with such care that they can be passed on and used repeatedly.