A Maze & a Puzzle
Moody Snakes
Regular price

Sale price

Rs. 299.00
3-6 YEARS | 1 or more Players
Playdates, Home, Vacations
7 Days Easy Returns* T&C's apply
Free shipping above Rs.500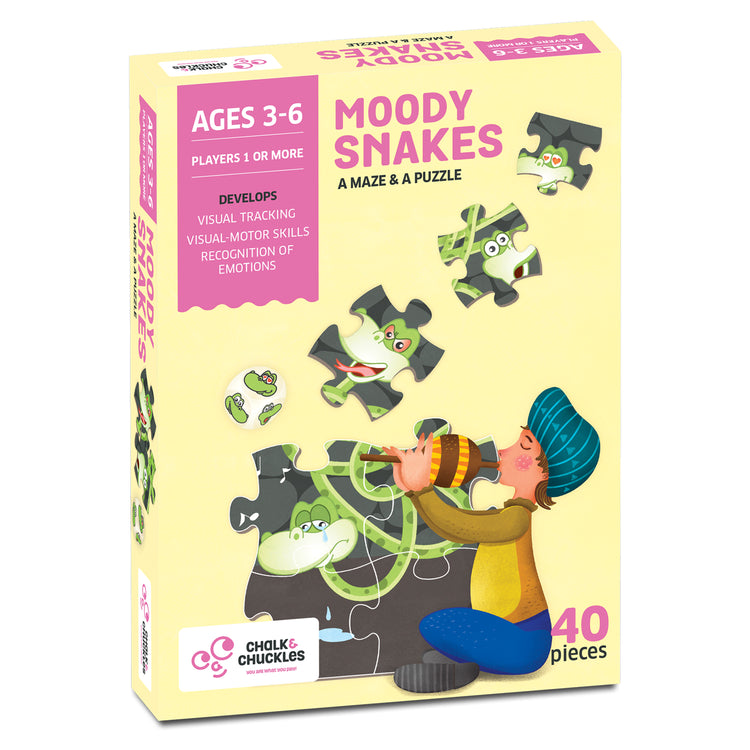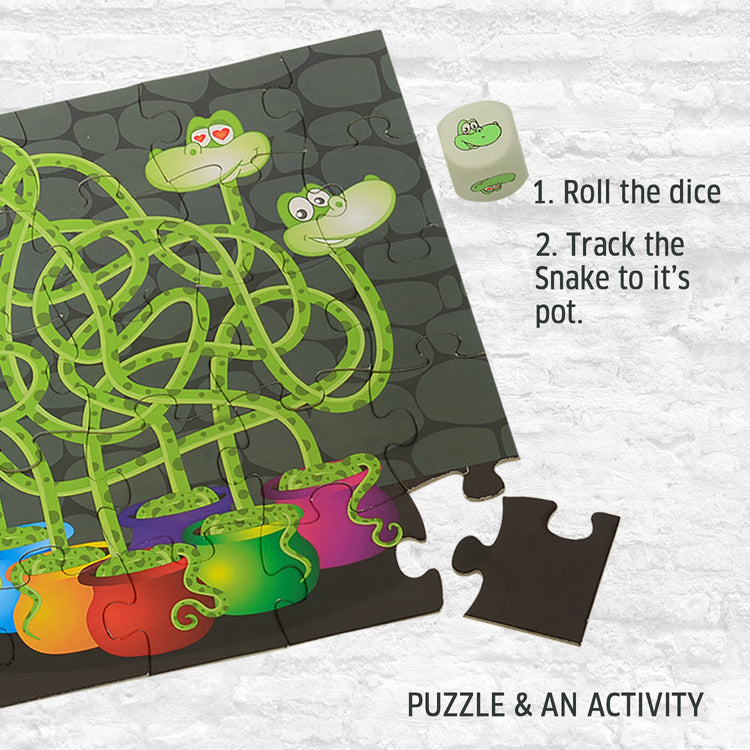 The Details

The snake is long and scaly
Swaying to the sounds of the flute gayly.
Oh no! What happened?
Why is the snake suddenly angry?
Is there something in the vessel?

Assemble the puzzle and roll the die. Spot the happy, sad, or angry snake.  Roll the wooden dice and track the snake to the pot it is coming out of.

Makes a great birthday gift and an attractive return gift idea. Finished puzzle- 14 x 9 inches
How to Play?

- Assemble the puzzle and see a snake-charming scene, which is also a maze.
- Familiarise children with the 6 different Moody Snakes (Spot the happy, sad, angry, proud, and surprised snake in the puzzle.)
- Roll the die to tell you which Moody snake's pot you must trace.
What's in the Box?

40 Jigsaw Pieces, 1 Wooden Die
Product Specifications

Box measures (cm): 16.5 x 23 x 4

Weight (g):262
MORE THAN JUST A PUZZLE!
Putting the puzzle together is only half the fun! When it's completed, kids can track the snake to the pot it is coming out of. Great screen-free fun for toddlers with the right level of challenge for 4 to 6 years old and up.
SKILL BUILDING PUZZLE
Develops visual-motor and visual tracking skills. Enhances emotion recognition. Learn 5 feelings and enhance emotion recognition. Our puzzle helps kids talk about feelings and build social-emotional skills-empathy for overall success in life.
QUALITY GUARANTEE
We want you to be happy and satisfied with your purchase from Chalk and Chuckles. If we do not meet your expectations in either quality or design, please contact our customer service.
WORKING TOWARDS SUSTAINABILITY
We make our products from recycled board & print with non-toxic Soy inks. We try to minimise the use of plastic in our packaging. We are now striving to reduce our box sizes. Smaller boxes means less emissions, less packaging & a lower carbon footprint.
OUR PROMISE
1. Potential

2. Goodness

3. Quality
Each of our games has the POTENTIAL to bring out the best in every child. Play to your strengths or play to build new strengths, we've got a game for everyone. You are what you play!
Join us in the playful revolution of raising the next generation of leaders. Leaders who are not only smart & intelligent but also care about the COMMON GOOD and the world we live in! Our games reflect our commitment to family, community, cooperation, diversity, and empathy.
We are committed to creating sustainable, safe, and non-toxic toys that meet all the Indian & International quality standards. We care about the products we deliver to you, and equally about the world we all live in. Our products are designed with such care that they can be passed on and used repeatedly.