Feelings Puzzle
Monkey Expressions
Regular price

Sale price

Rs. 549.00
3-5 YEARS | 1 or more Players
Preschool, Playdates, Home
7 Days Easy Returns* T&C's apply
Free shipping above Rs.500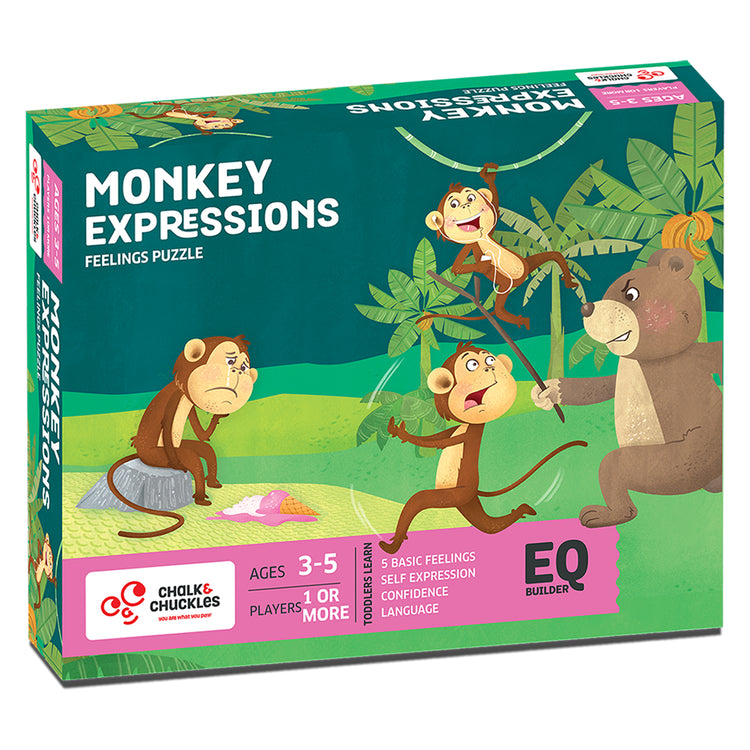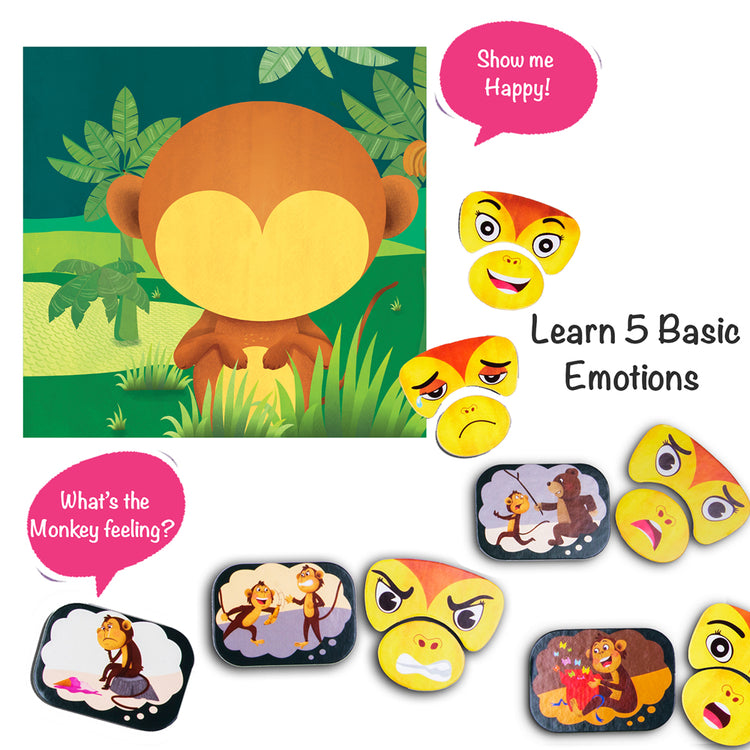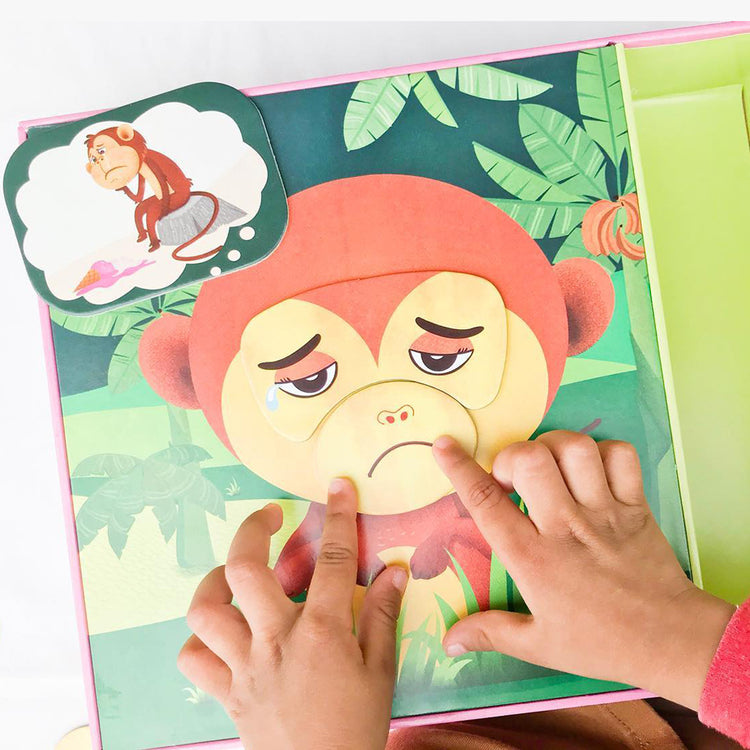 The Details

The lovable monkey has a range of feelings all day long. Being chased by the bear, he feels sad & surprised to see colourful, beautiful butterflies fly out when he unwraps his gift.


Let your child learn the concept of expression at an early stage with this magnetic puzzle that helps children identify emotions and express and communicate their feelings. A pre-school skill builder that grows with your child. Manipulate the eyes and mouth pieces to make expressions- happy, sad, angry, surprised, or scared.
How to Play?

1. Begin with copying expressions. Use the puzzle pieces to copy and name the expressions on the monkey. See the monkey feeling 'Sad, Mad or Glad!'
2. Move on to naming a feeling. E.g. 'Scared' and ask the child to create that expression on the monkey without reference pictures.
3. Finally build connecting skills. Place a situation card over the monkey's head. See what is happening and ask the child to identify the feeling. Name the feeling and make that expression on the monkey.

It'll be a great addition to your storytelling sessions and is perfect for parent-child interaction.
What's in the Box?

1 sturdy box with magnetic board, 15 pieces: 5 eye pieces, 5 mouth pieces, 5 situation cards (magnetic), Detailed instructions
Product Specifications

Box measures (cm): 26.7 x 21.6 x 4.6

Weight (g):400
PERFECT GIFT FOR PRESCHOOLERS
Childhood is the best time to start building emotional health. It's the perfect gift for toddlers to promote open communication and self expression.
DEVELOPS EMOTIONAL INTELLIGENCE
Kids often do not understand - Why they feel scared or nervous? Why they can not control their mood? Or why they are both sad and mad? Our puzzle helps children to playfully talk about feelings.
QUALITY GUARANTEE
We want you to be happy and satisfied with your purchase from Chalk and Chuckles. If we do not meet your expectations in either quality or design, please contact our customer service.
WORKING TOWARDS SUSTAINABILITY
We make our products from recycled board & print with non-toxic Soy inks. We try to minimise the use of plastic in our packaging. We are now striving to reduce our box sizes. Smaller boxes means less emissions, less packaging & a lower carbon footprint.
OUR PROMISE
1. Potential

2. Goodness

3. Quality
Each of our games has the POTENTIAL to bring out the best in every child. Play to your strengths or play to build new strengths, we've got a game for everyone. You are what you play!
Join us in the playful revolution of raising the next generation of leaders. Leaders who are not only smart & intelligent but also care about the COMMON GOOD and the world we live in! Our games reflect our commitment to family, community, cooperation, diversity, and empathy.
We are committed to creating sustainable, safe, and non-toxic toys that meet all the Indian & International quality standards. We care about the products we deliver to you, and equally about the world we all live in. Our products are designed with such care that they can be passed on and used repeatedly.