7 Puzzles & Activity Set
Happy Habits
Regular price

Rs. 899.00

Sale price

Rs. 810.00
3-7 YEARS | 1 or more Players
Playdates, Homeschool, Classrooms
7 Days Easy Returns* T&C's apply
Free shipping above Rs.500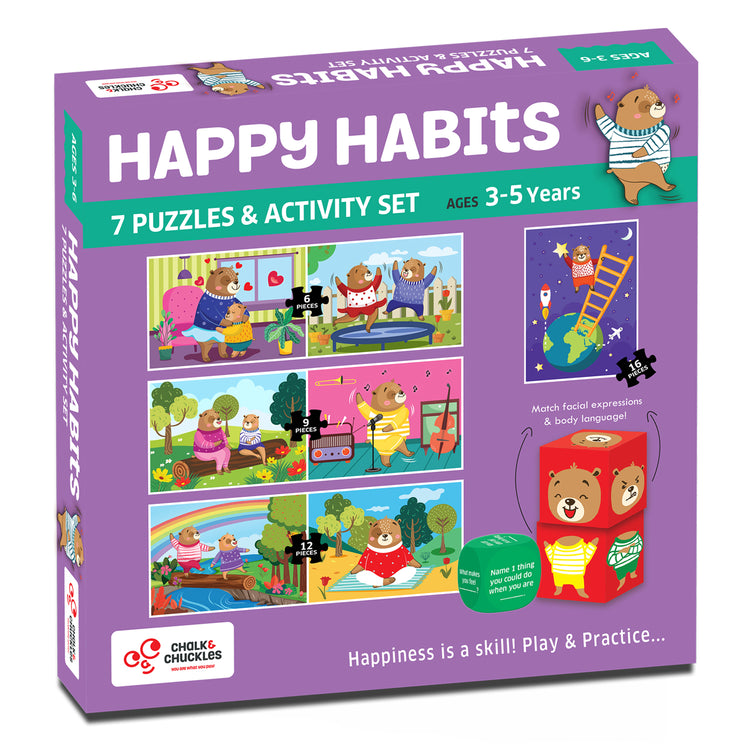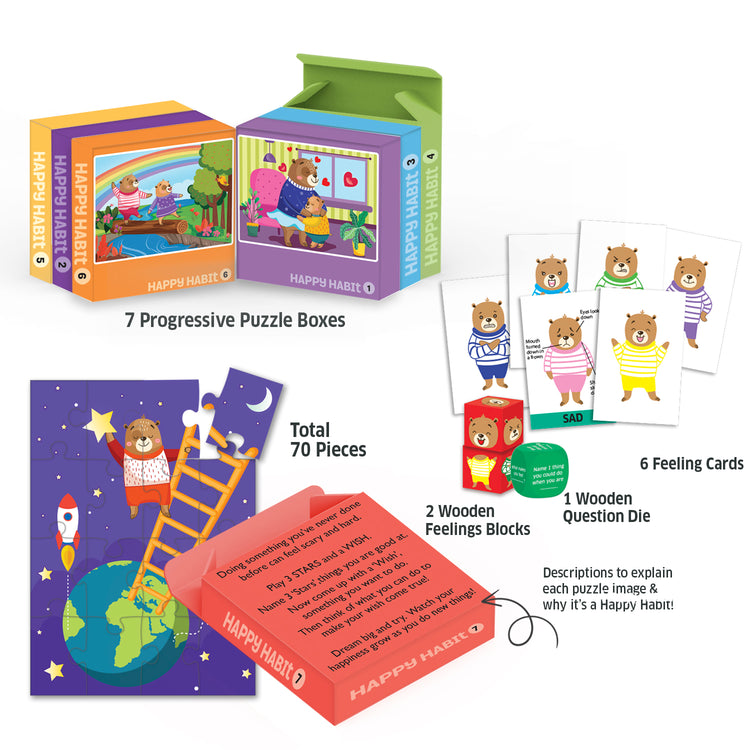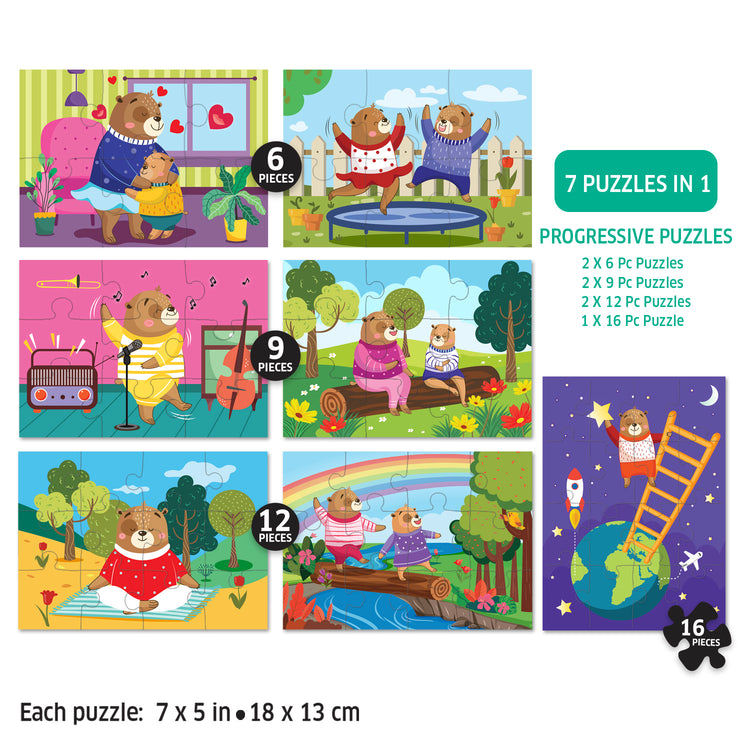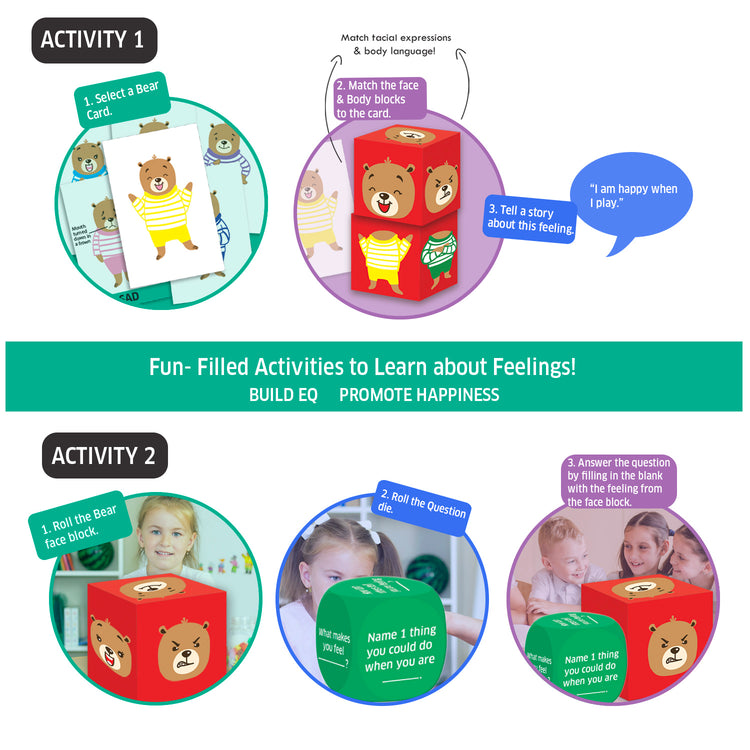 The Details

Chalk and Chuckles Happy Habits is a Puzzle and Activity set for toddlers ages 3-6 Years. The box contains 7 progressive puzzles each measuring 7" x 5". Each jigsaw puzzle can be pieced together to reveal a colourful picture showing a happy habit.

Explore feelings and practice social-emotional skills with the dice and feeling cards with 3 engaging activities. 

Our genetics & life circumstances account for 60% of our happiness. Research suggests we have control over the other 40%. Children can learn habits that'll promote a lifetime of happiness & success. 
How to Play?

Multiple activities in a box

Happy habits puzzles (7)
1. Assemble the puzzle and nurture Happy Habits.
2. Each puzzle is packed in an individual box for easy storage & has a short description of the habit. Read about why it's a happy habit and practice the happy activity.

Feelings Activities
The box The box includes 3 fun social & emotional activities. Explore and match feelings with the emotions and question dice. Encourages children to reflect on their emotions and think about their actions.
What's in the Box?

7 Jigsaw Progressive Puzzles (two each of 6, 9 and 12-pieces, and one 16-piece puzzle), 2 Wooden Character Blocks, 1 Wooden Question Dice, 6 Feelings Flash Cards, A Parent Guide

Product Specifications

Box measures (cm): 25 x 25 x 4.5

Weight (g):562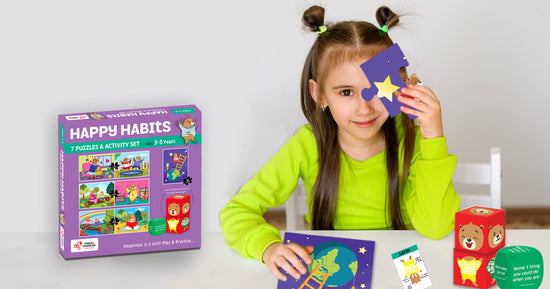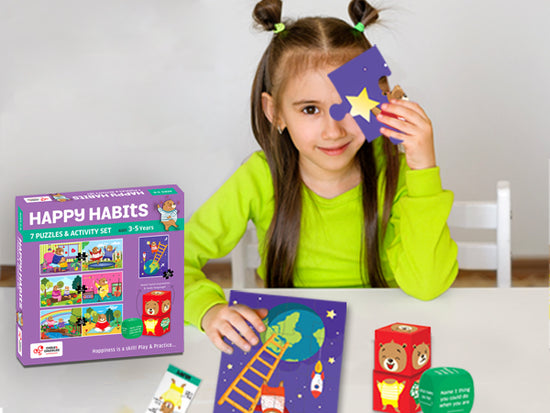 HAPPINESS IS A SKILL
Play & practice. Cultivating self-awareness & allowing children to show a true range of emotions is a proven route to happiness. It's the most important subject in our lives.
THOUGHTFUL GIFTS FOR KIDS
Birthday or any occasion, it's an awesome present for creating memories and learning. Great for boys and girls ages 4-8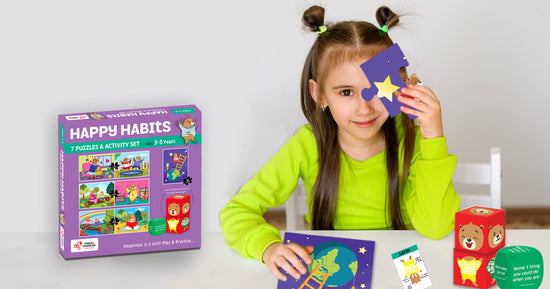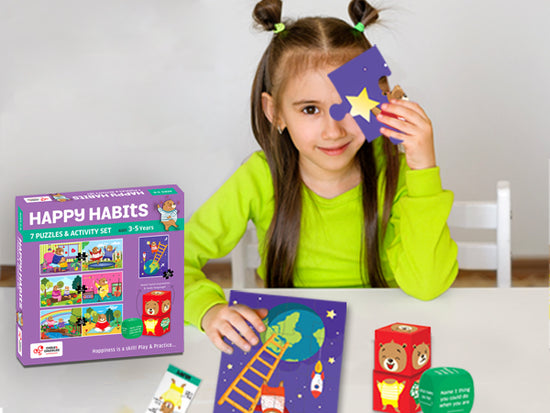 QUALITY GUARANTEE
We want you to be happy and satisfied with your purchase from Chalk and Chuckles. If we do not meet your expectations in either quality or design, please contact our customer service.
WORKING TOWARDS SUSTAINABILITY
We make our products from recycled board & print with non-toxic Soy inks. We try to minimise the use of plastic in our packaging. We are now striving to reduce our box sizes. Smaller boxes means less emissions, less packaging & a lower carbon footprint.
OUR PROMISE
1. Potential

2. Goodness

3. Quality
Each of our games has the POTENTIAL to bring out the best in every child. Play to your strengths or play to build new strengths, we've got a game for everyone. You are what you play!
Join us in the playful revolution of raising the next generation of leaders. Leaders who are not only smart & intelligent but also care about the COMMON GOOD and the world we live in! Our games reflect our commitment to family, community, cooperation, diversity, and empathy.
We are committed to creating sustainable, safe, and non-toxic toys that meet all the Indian & International quality standards. We care about the products we deliver to you, and equally about the world we all live in. Our products are designed with such care that they can be passed on and used repeatedly.