Goodnight Activity Game
Bedtime Bear
Regular price

Sale price

Rs. 999.00
3-7 YEARS | 2 - 4 Players
Playdates, Family Game Nights
7 Days Easy Returns* T&C's apply
Free shipping above Rs.500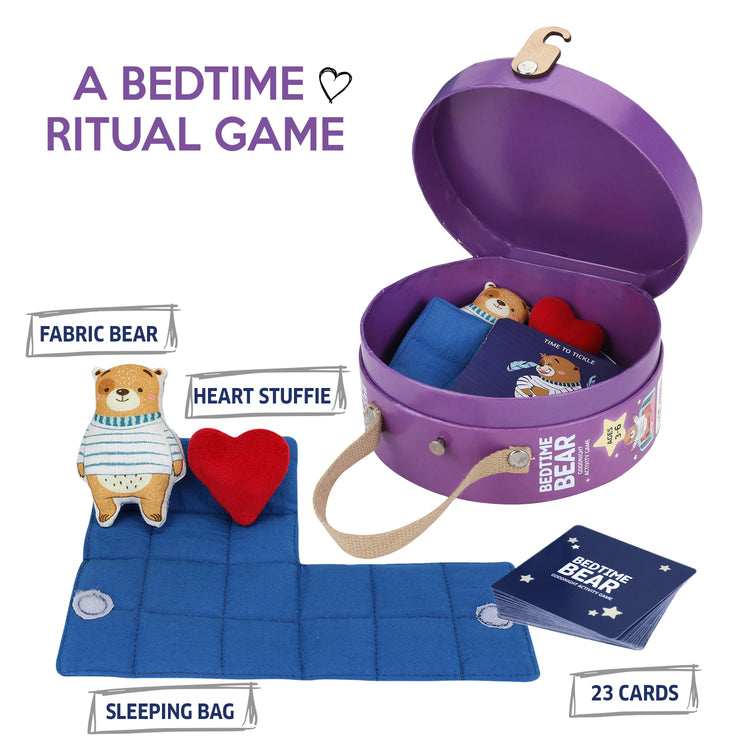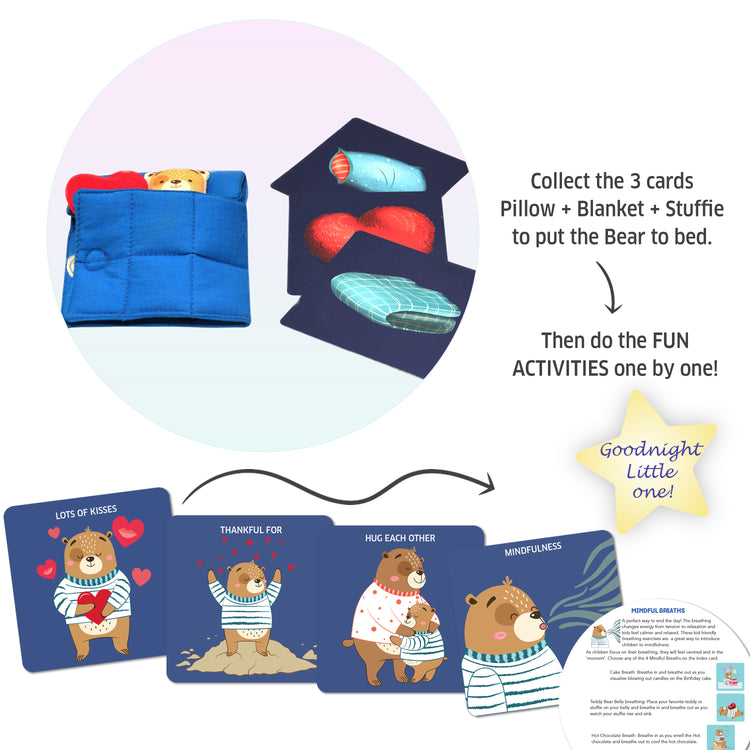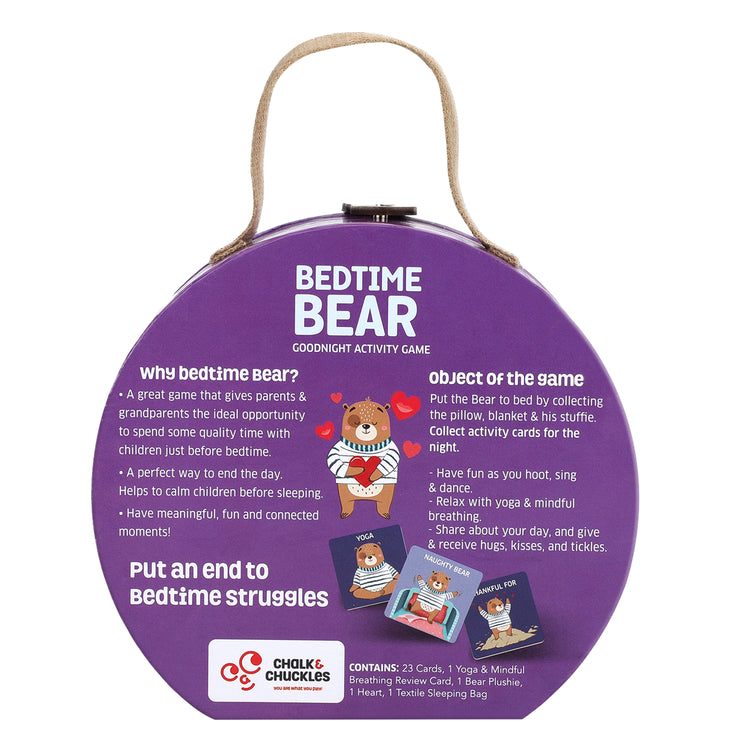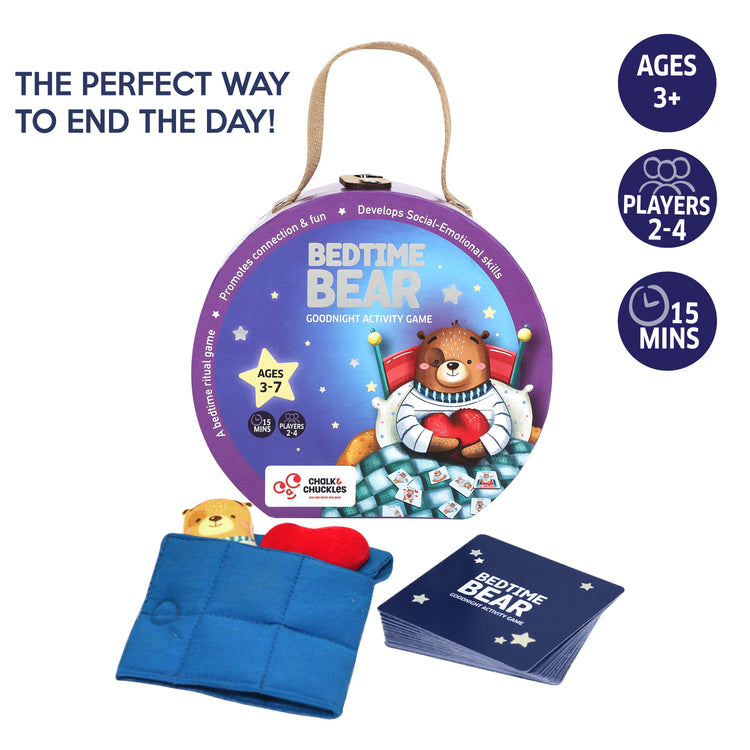 The Details

Add family fun to your children's night time routine with Bedtime Bear- the first bedtime ritual game.
A card game that you will play again and again. Spend quality time with your kids just before they sleep with this great tool for parents. End all bedtime struggles with a box full of love. Takes about 15-20 minutes to play. Makes sure the kids go to sleep feeling calm, loved, and connected.

A great gift for families with children. Beautifully packaged in a small round suitcase box with a canvas handle. Create memories that last a lifetime!

How to Play?

- Open the sleeping bag with the pillow and blanket turned out.
- Place the Bear on the bed. Open cards one by one.
- Collect as many fun activity cards, kisses, singing, dancing, mindfulness, yoga, etc.
- Watch out for the Naughty Bear, Gone With the Wind, and Sleep Fairy cards which add even more excitement!
- The game ends when you find the blanket, pillow, and heart cards.
- Put the bear to bed and do the activities one by one.

What's in the Box?

23 cards, A fabric bed, a stuffie, and a teddy. Comes in a beautiful round suitcase box with a canvas handle.
Product Specifications

Box measures (cm): 15.4 x 14 x 6.5

Weight (g):190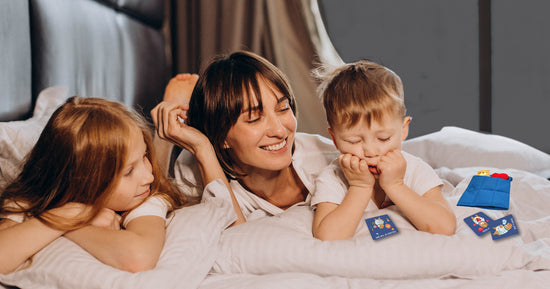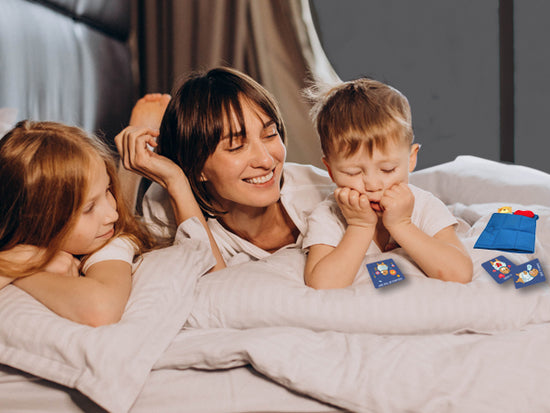 SUPER FUN & ADORABLE WAY TO END YOUR DAY
It's simple, playful & quick. A great way to spend quality time with your children.
FAMILY PLAYTIME
Makes sharing and connecting with your child a breeze. Gets kids to playfully share what's on their minds- their dreams, worries, and more...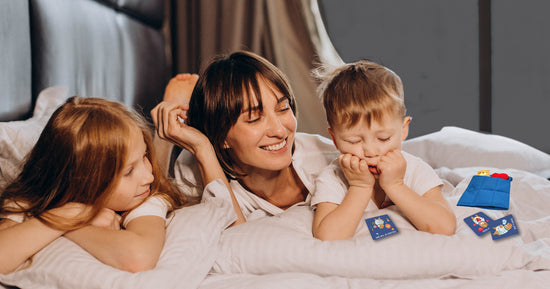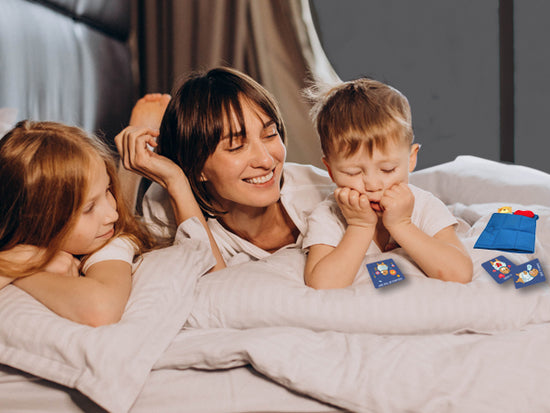 QUALITY GUARANTEE
We want you to be happy and satisfied with your purchase from Chalk and Chuckles. If we do not meet your expectations in either quality or design, please contact our customer service.
WORKING TOWARDS SUSTAINABILITY
We make our products from recycled board & print with non-toxic Soy inks. We try to minimise the use of plastic in our packaging. We are now striving to reduce our box sizes. Smaller boxes means less emissions, less packaging & a lower carbon footprint.
OUR PROMISE
1. Potential

2. Goodness

3. Quality
Each of our games has the POTENTIAL to bring out the best in every child. Play to your strengths or play to build new strengths, we've got a game for everyone. You are what you play!
Join us in the playful revolution of raising the next generation of leaders. Leaders who are not only smart & intelligent but also care about the COMMON GOOD and the world we live in! Our games reflect our commitment to family, community, cooperation, diversity, and empathy.
We are committed to creating sustainable, safe, and non-toxic toys that meet all the Indian & International quality standards. We care about the products we deliver to you, and equally about the world we all live in. Our products are designed with such care that they can be passed on and used repeatedly.