A Game and Puzzle
Smart Sticks- Discover India
Regular price

Sale price

Rs. 399.00
8-99 YEARS | 1-4 Players
Home, Playdates, Classrooms, Picnic, Vacations, Road Trips
7 Days Easy Returns* T&C's apply
Free shipping above Rs.500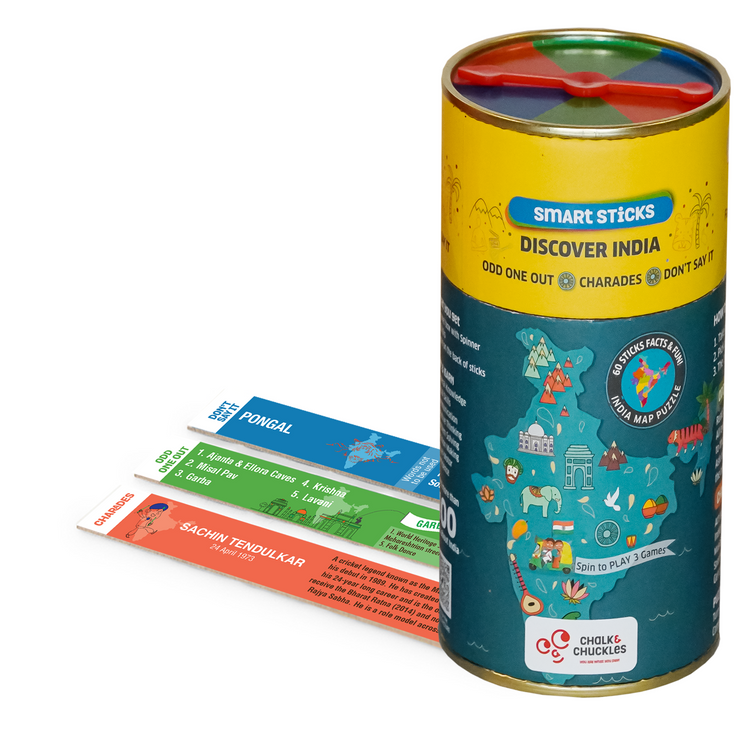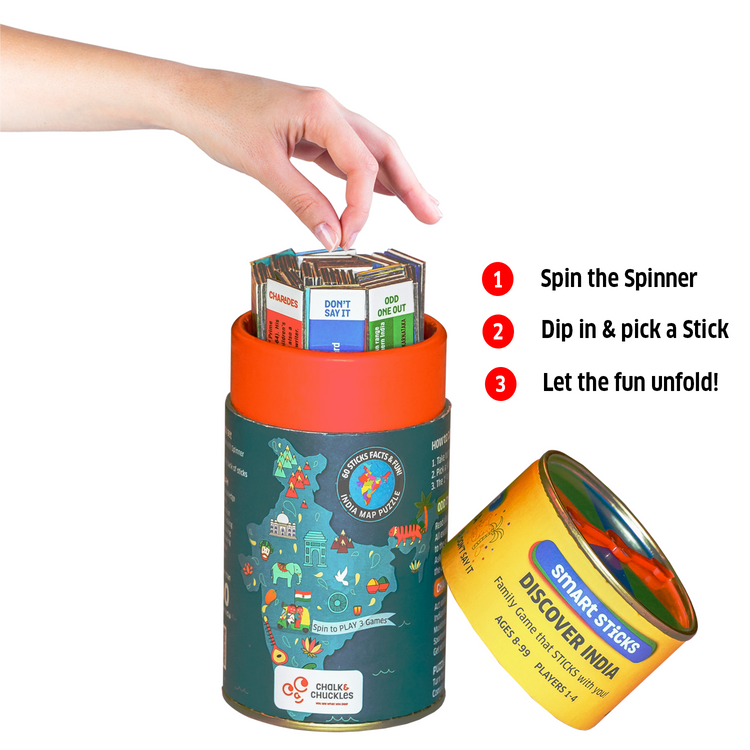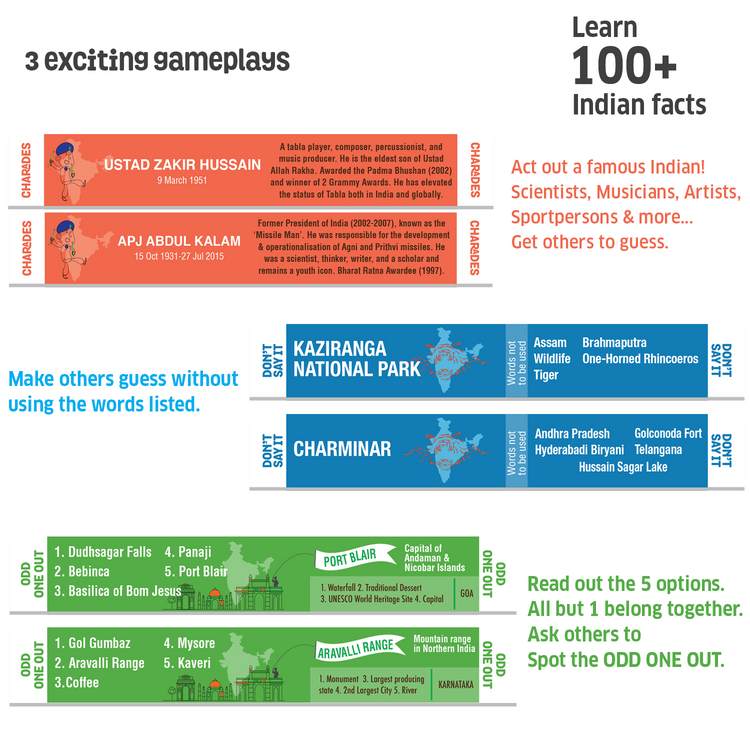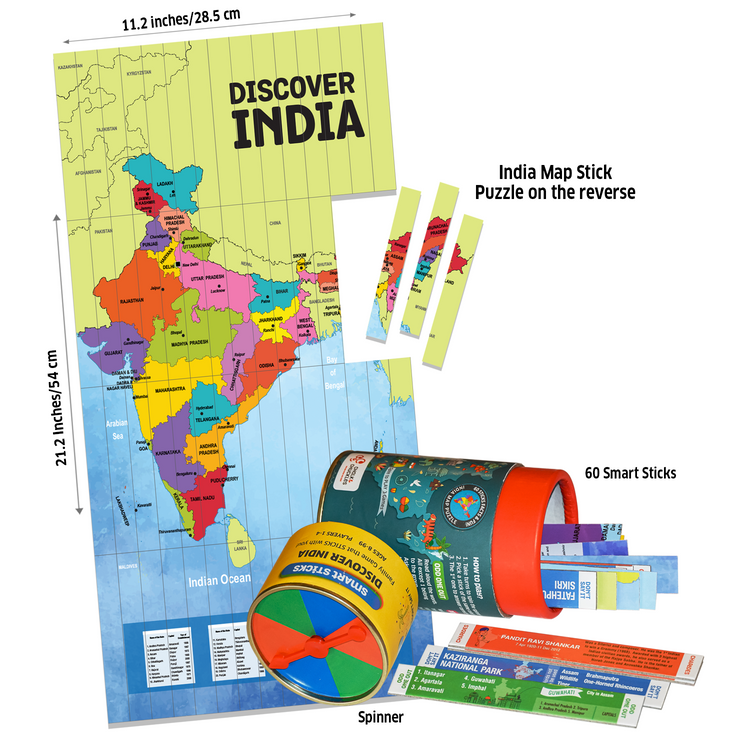 The Details

An exciting & engaging game with great content that will be enjoyed by all ages - from 8 to 99! A must-have for all kids. Learn more than 100 facts about India in a new way with games that you are already familiar with - Trivia, Charades, Guess Who, Don't Say it! We've got the performers, quiz lovers, and communicators covered. There's more; turn the sticks around and complete a unique India map puzzle.
How to Play?

Take turns to spin the spinner for the colour. Pick out the coloured stick. Get others to guess the answer.
1. Charades- Act out a famous Indian! Scientists, Musicians, Artists, Sportspersons & more... Get others to guess.
2. Odd One Out- Read aloud the words. All except 1 belong together.
3. Don't Say It- Make others guess the place on your stick without using the forbidden words.
The first player to win 5 sticks is the winner.

What's in the Box?

A beautiful cylindrical tube with a spinner.
60 Smart Sticks. A unique puzzle of India Map on the reverse side (54 cm X 28.5 cm)
Product Specifications

Box measures (cm): 8 x 8 x 15

Weight (g):296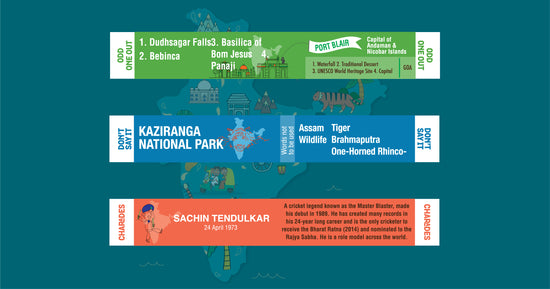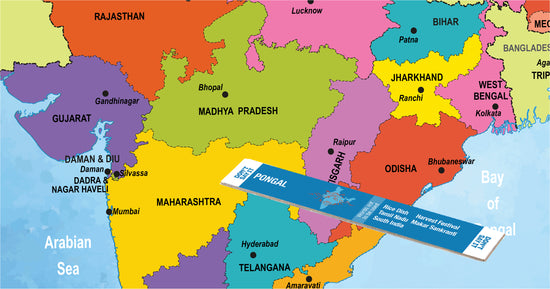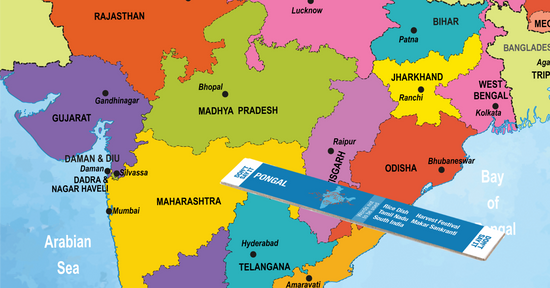 GAME FOR THE WHOLE FAMILY
A super fun way to learn about India- Capital Cities, Currency, Animals, Sports, Dance, Monuments, Rivers & Mountains. Engaging content for all age groups!
BEST GIFT EVER LEARNING IS FUN!
A smart way to play & have fun for the whole family! Pick out a SMART STICK and get your kids, friends, and family thinking, laughing, and guessing! Great for family games night, or car journeys.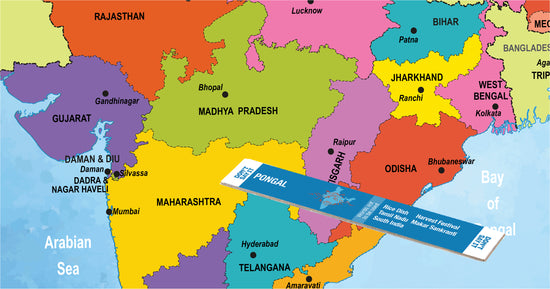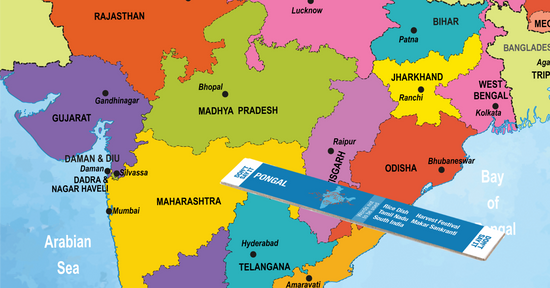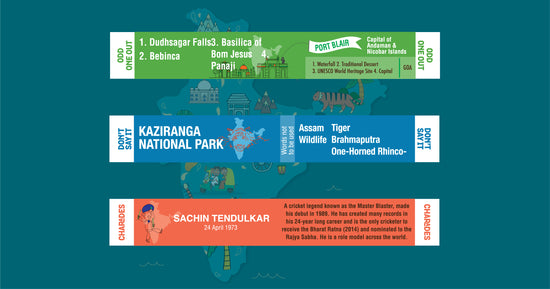 QUALITY GUARANTEE
We want you to be happy and satisfied with your purchase from Chalk and Chuckles. If we do not meet your expectations in either quality or design, please contact our customer service.
WORKING TOWARDS SUSTAINABILITY
We make our products from recycled board & print with non-toxic Soy inks. We try to minimise the use of plastic in our packaging. We are now striving to reduce our box sizes. Smaller boxes means less emissions, less packaging & a lower carbon footprint.
OUR PROMISE
1. Potential

2. Goodness

3. Quality
Each of our games has the POTENTIAL to bring out the best in every child. Play to your strengths or play to build new strengths, we've got a game for everyone. You are what you play!
Join us in the playful revolution of raising the next generation of leaders. Leaders who are not only smart & intelligent but also care about the COMMON GOOD and the world we live in! Our games reflect our commitment to family, community, cooperation, diversity, and empathy.
We are committed to creating sustainable, safe, and non-toxic toys that meet all the Indian & International quality standards. We care about the products we deliver to you, and equally about the world we all live in. Our products are designed with such care that they can be passed on and used repeatedly.