Speedy Game of Memory
Caterpillar Clutter
Regular price

Sale price

Rs. 399.00
4-8 YEARS | 2 - 4 Players
Family Game-night, Playdates, Classroom, Homeschool, Travel
7 Days Easy Returns* T&C's apply
Free shipping above Rs.500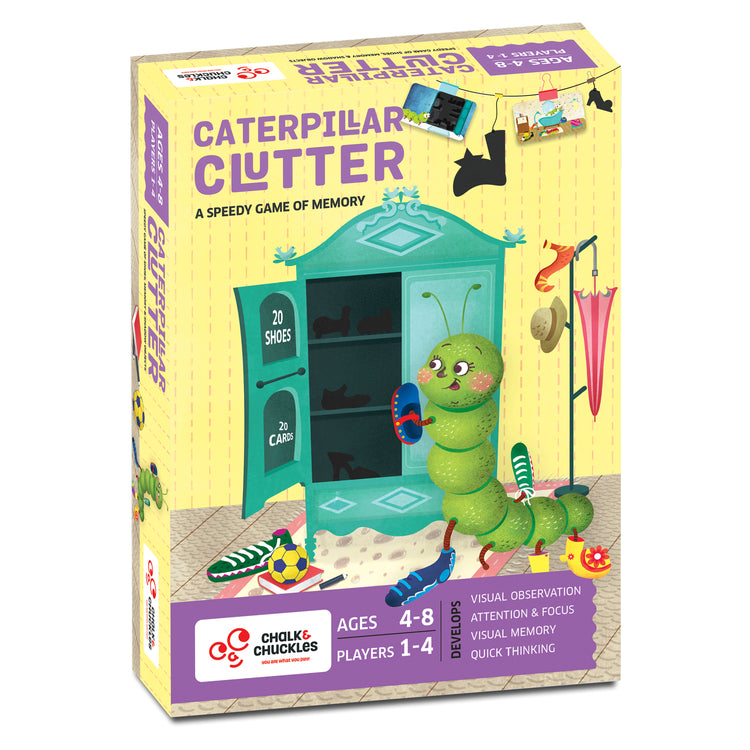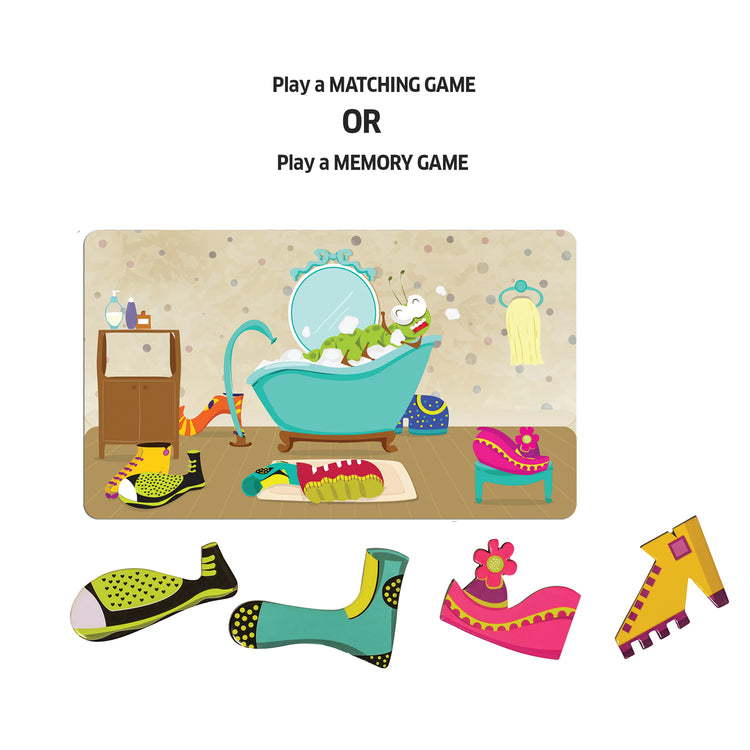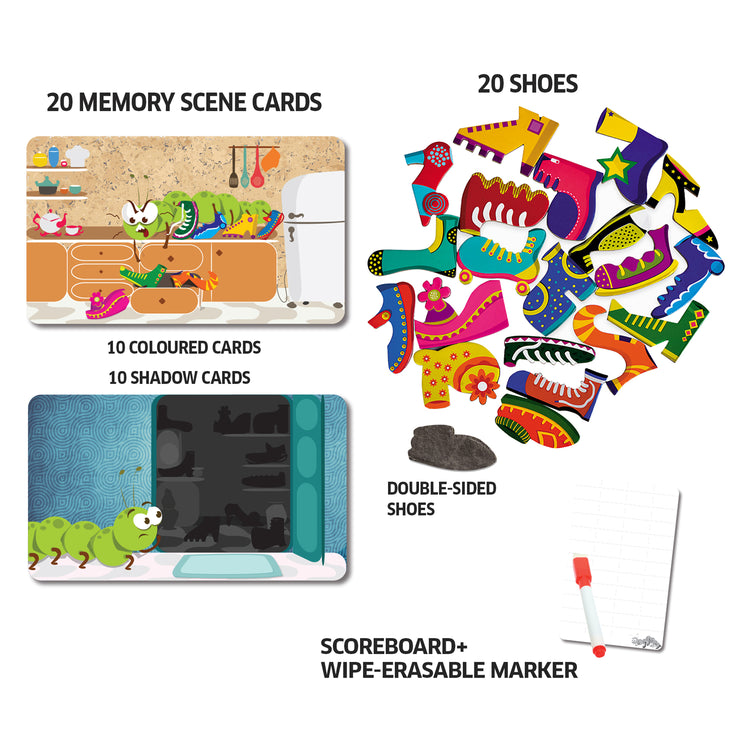 The Details

Catty the caterpillar has so many feet. Finding his shoes is a feat!
Night or day, there is clutter in the way.
In the kitchen, under the stairs
Over the roof, Catty can't find any pair.

Help Catty find his shoes in a speedy game of memory. An interesting take on the old-school favourite "Memory Tray" game. The game has multiple variations to ensure that you are constantly challenged and never get bored! You can also use the cards to build language skills and vocabulary. 

A perfect gift for Girls & Boys Ages 3 and up.
How to Play?

One game, many ways to play!
Game 1
- Turn over a card. Pay attention to the shoes in the picture and memorise them.
- Turn the card face down and rush to pick up the shoes that you remember.
- Score the highest by remembering the maximum number of shoes in each picture.

Game 2
- Play with the coloured shoes or play a game of shadow object matching.

For younger children, play a game of matching shoes.

What's in the Box?

20 shoes, 20 scene cards, 1 wipe-erasable scoring board, 1 wipe-erasable marker, Instructions
Product Specifications

Box measures (cm): 23 x 16.5 x 4.5

Weight (g):362
FAST PACED ADDICTIVE FAMILY GAME
Popular with both girls and boys, a game that kids of varied ages enjoy playing together. With multiple variations and challenges, it can be played alone or with many players.
ONE GAME MANY WAYS TO PLAY
Easy to learn & simple to play. Play a game of simple matching or memory. Play with shadow cards or with coloured. Interchange what you look for. Builds focus and attention in kids.
QUALITY GUARANTEE
We want you to be happy and satisfied with your purchase from Chalk and Chuckles. If we do not meet your expectations in either quality or design, please contact our customer service.
WORKING TOWARDS SUSTAINABILITY
We make our products from recycled board & print with non-toxic Soy inks. We try to minimise the use of plastic in our packaging. We are now striving to reduce our box sizes. Smaller boxes means less emissions, less packaging & a lower carbon footprint.
OUR PROMISE
1. Potential

2. Goodness

3. Quality
Each of our games has the POTENTIAL to bring out the best in every child. Play to your strengths or play to build new strengths, we've got a game for everyone. You are what you play!
Join us in the playful revolution of raising the next generation of leaders. Leaders who are not only smart & intelligent but also care about the COMMON GOOD and the world we live in! Our games reflect our commitment to family, community, cooperation, diversity, and empathy.
We are committed to creating sustainable, safe, and non-toxic toys that meet all the Indian & International quality standards. We care about the products we deliver to you, and equally about the world we all live in. Our products are designed with such care that they can be passed on and used repeatedly.