Making Kindness Easy
Lotothot Puzzle
Regular price

Sale price

Rs. 599.00
5-10 YEARS | 1 or more Players
Playdates, Home, Classrooms
7 Days Easy Returns* T&C's apply
Free shipping above Rs.500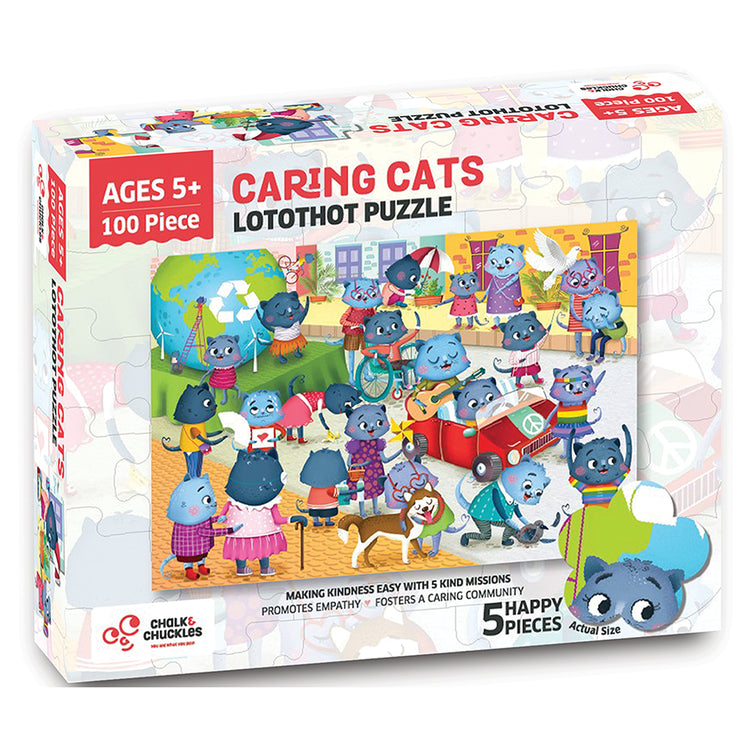 The Details

PUZZLE WITH A TWIST; MAKING KINDNESS EASY WITH 5 KIND MISSIONS : When you complete the puzzle, you will find 5 pieces missing. Join LOTOTHOT to complete 5 KIND & CARING missions. Complete the missions, and open sealed envelopes to find all Happy pieces to complete your puzzle. Be rewarded for your kindness with a CARING CATS CERTIFICATE that you can personalise.

CONTAINS: 100 Puzzle pieces, 1 poster, 1 certificate, 1 Mission Card, 5 sealed envelopes

COLOURFUL ARTWORK THAT INSPIRES: Look out for LOTOTHOT & his friends (the little cats with a large heart), in this beautifully illustrated puzzle. Powered by love & lots of thoughts, they plan to play their part! Spot them being a HERO & taking a stand or being thoughtful & respectful, changing the world with one kind act at a time. How many CARING & THOUGHTFUL ACTIONS can you spot? Have CONVERSATIONS that matter as you discuss the images while having fun.

100-PIECE PUZZLE: The 100-piece CARING CATS LOTOTHOT jigsaw puzzle with large sturdy pieces is perfect for children ages 5 through 9. The finished puzzle measures 24†x 16.5â€.

SKILLS THAT MATTER: Apart from promoting hand-eye co-ordination and problem solving skills with puzzles, Caring Cats puzzles also allows for playing together. Makes a great gift and will be the perfect addition to your home or classroom. Promotes empathy and helps build a CARING COMMUNITY.. skill level:intermediate

THE JIGSAW PIECES

Flawless fit & premium quality. Made from premium Blue Board. 2 mm thickness

Every individual piece has a completely unique shape and fits precisely with zero gaps.

Includes 5 UNIQUE SHAPED pieces.

Play again & again! No edge warping. Reusable & durable.

GIFTS KIDS LOVE

Sturdy box, perfect for storing and gift-giving! Box measures 10.51 x 8.5 x 2.2 inches.

SKILL BUILDER

Playing with puzzles develops Concentration, Hand Eye Coordination, Fine Motor Skills, Spatial awareness, Memory, Problem-solving skills, and Confidence.

Our Caring Cats Puzzles are fun for the whole family. It's engaging & educational and promotes value-based play & meaningful discussions. Promotes empathy & positive behaviors. Inspires cooperation & kindness.

It's also great for Language & Communication skills: The beautifully illustrated puzzle has so many situations to talk about.

 
How to Play?

Engaging Unique Puzzle Activity for Boys & Girls

- Assemble the puzzle to find 5 pieces missing.
- Complete each of the 5 Kind Missions to find the missing pieces for your puzzle.
- Reward kids for their kindness with a CARING CATS CERTIFICATE that you can personalise.

Spot KIND ACTS!
A playful way to discuss and practice kindness.

What's in the Box?

100 Jigsaw Puzzle Pieces, 1 Poster, 1 Certificate, 1 Mission Card, 5 sealed envelopes
Completed puzzle measures 24 x 16.5 inches
Product Specifications

Box measures (cm): 26.7 x 21.6 x 5.7

Weight (g):610
QUALITY GUARANTEE
We want you to be happy and satisfied with your purchase from Chalk and Chuckles. If we do not meet your expectations in either quality or design, please contact our customer service.
WORKING TOWARDS SUSTAINABILITY
We make our products from recycled board & print with non-toxic Soy inks. We try to minimise the use of plastic in our packaging. We are now striving to reduce our box sizes. Smaller boxes means less emissions, less packaging & a lower carbon footprint.
OUR PROMISE
1. Potential

2. Goodness

3. Quality
Each of our games has the POTENTIAL to bring out the best in every child. Play to your strengths or play to build new strengths, we've got a game for everyone. You are what you play!
Join us in the playful revolution of raising the next generation of leaders. Leaders who are not only smart & intelligent but also care about the COMMON GOOD and the world we live in! Our games reflect our commitment to family, community, cooperation, diversity, and empathy.
We are committed to creating sustainable, safe, and non-toxic toys that meet all the Indian & International quality standards. We care about the products we deliver to you, and equally about the world we all live in. Our products are designed with such care that they can be passed on and used repeatedly.