A Beary Lovable First Game
Stack a Cake
Regular price

Sale price

Rs. 799.00
2-4 YEARS | 1-2 Players
Playdates, Preschool, Homeschool
7 Days Easy Returns* T&C's apply
Free shipping above Rs.500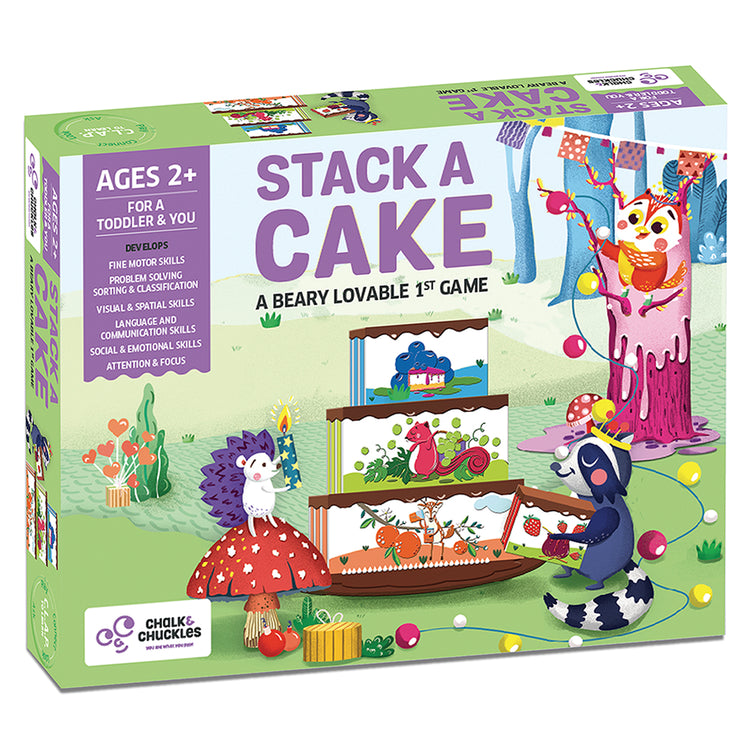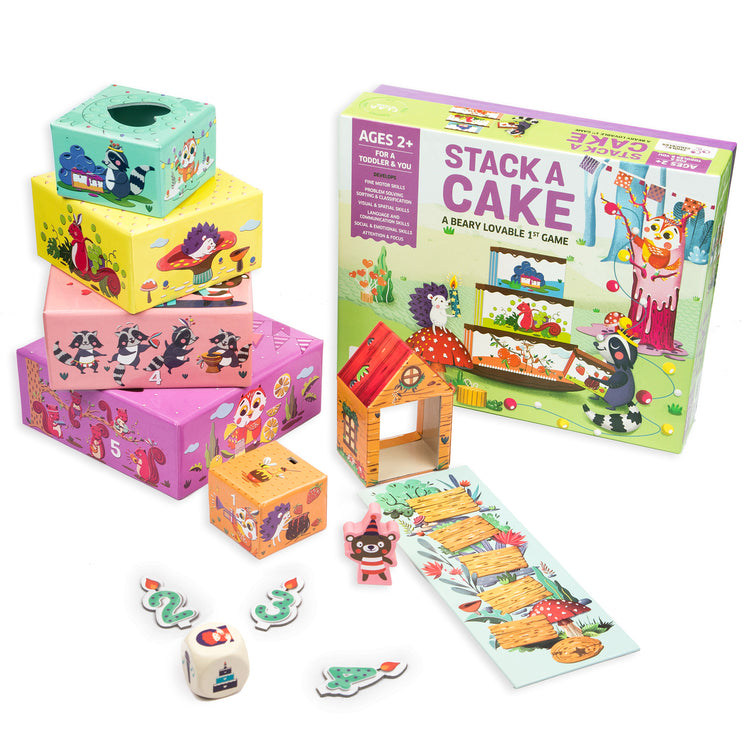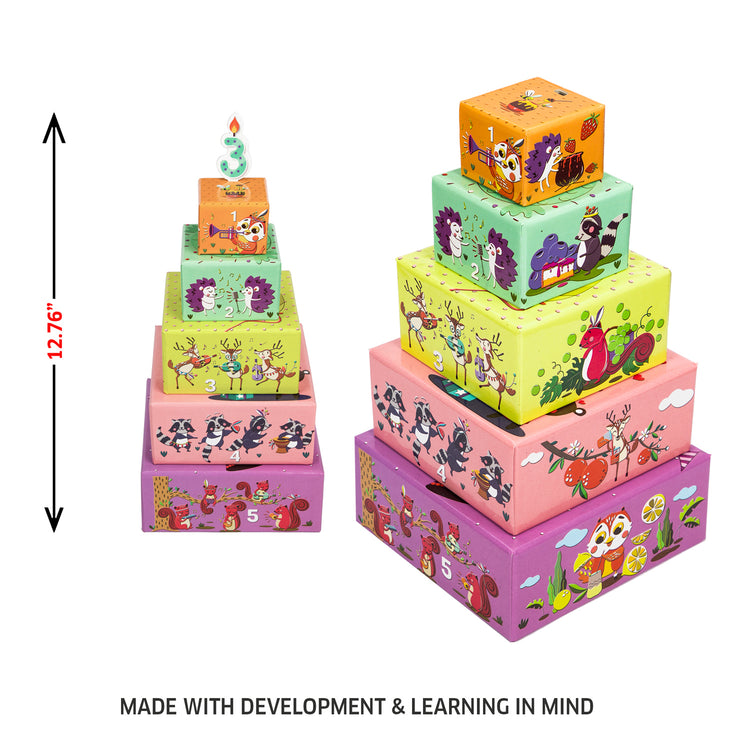 The Details

It's the bear-y lovely Bear's very happy birthday & he's out in the forest for a walk. Join his Friends in surprising him with a Berrylicious Birthday Cake before he gets home in a fun dice-rolling first board game.




Combines toddler's and preschoolers' favourite activities- stacking, nesting, and story-telling in an engaging activity box. 

Teach with engaging prompts and storytelling. Practice language skills, logic, and problem-solving. Explore the picture blocks. Builds number, animal, colours, and shape recognition. 

Stack a Cake is designed to bring a great experience to toddlers and their parents, who can play together! Explore, Look, Talk, Play & Learn.
How to Play?

It's really simple. Stack the Berrylicious cake before the Birthday Bear gets home.
- Roll the die & see what action to perform. Sing, Dance & hug along the way!
- If you roll the bear, he moves a step closer to home.
- Stack the cake & top it with a candle for a very happy surprise for the bear before he gets home.
A first cooperative game designed for the little ones!

Includes many prompts for play and an engaging story to read aloud.

What's in the Box?

5 Cake blocks, 1 Wooden bear, 3 Candles, 1 Forest track, 1 House, 1 Wooden die, 1 Story Card and a Parent & Play guide
Product Specifications

Box measures (cm): 26.7 x 21.6 x 6.8

Weight (g):590
TODDLER BONDING GAME
The game lets you spend quality time with your little one. Engaging and educational, designed to build emotional connection- happy children with confidence and self-esteem!
BEARY HAPPY BIRTHDAY GIFT
A great gift for your preschooler & kids love Stack a Cake because it's fun! Watch them sing, dance and giggle away as they rush to stack the cake!
QUALITY GUARANTEE
We want you to be happy and satisfied with your purchase from Chalk and Chuckles. If we do not meet your expectations in either quality or design, please contact our customer service.
WORKING TOWARDS SUSTAINABILITY
We make our products from recycled board & print with non-toxic Soy inks. We try to minimise the use of plastic in our packaging. We are now striving to reduce our box sizes. Smaller boxes means less emissions, less packaging & a lower carbon footprint.
OUR PROMISE
1. Potential

2. Goodness

3. Quality
Each of our games has the POTENTIAL to bring out the best in every child. Play to your strengths or play to build new strengths, we've got a game for everyone. You are what you play!
Join us in the playful revolution of raising the next generation of leaders. Leaders who are not only smart & intelligent but also care about the COMMON GOOD and the world we live in! Our games reflect our commitment to family, community, cooperation, diversity, and empathy.
We are committed to creating sustainable, safe, and non-toxic toys that meet all the Indian & International quality standards. We care about the products we deliver to you, and equally about the world we all live in. Our products are designed with such care that they can be passed on and used repeatedly.