Speedy Touch and Match Game
Sandwich Mix Up
Regular price

Rs. 999.00

Sale price

Rs. 899.00
4-8 YEARS | 1-5 Players
Family Game Nights, Playdates, Classrooms, Homeschool
7 Days Easy Returns* T&C's apply
Free shipping above Rs.500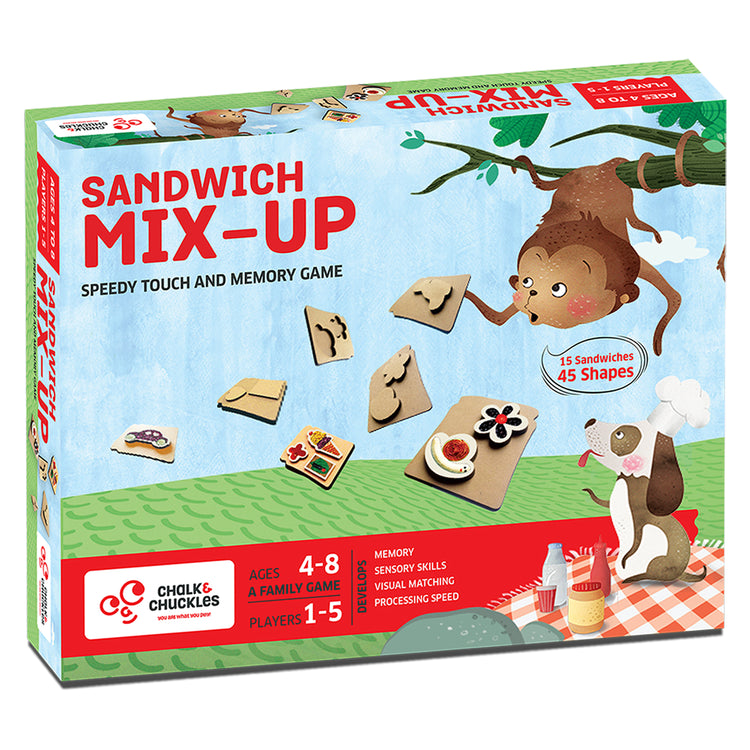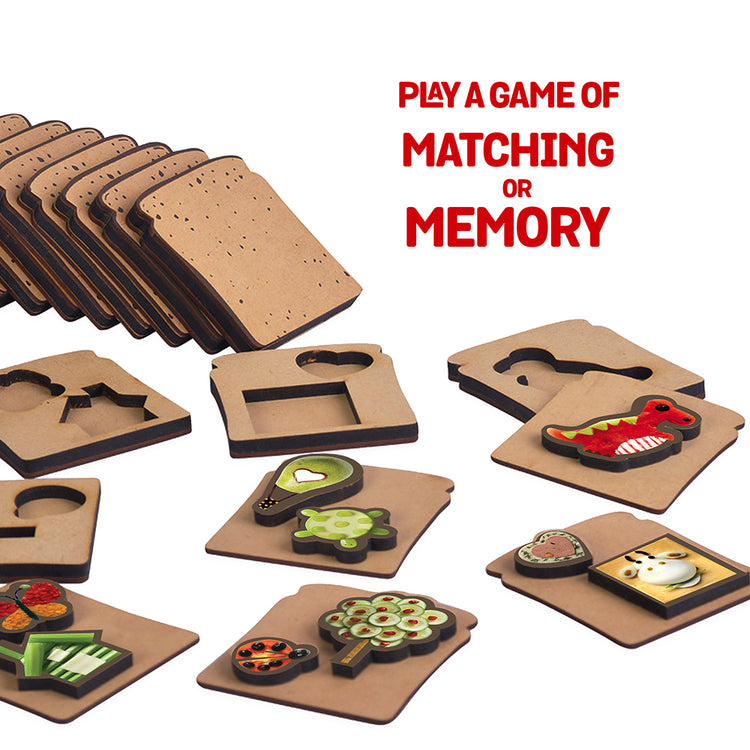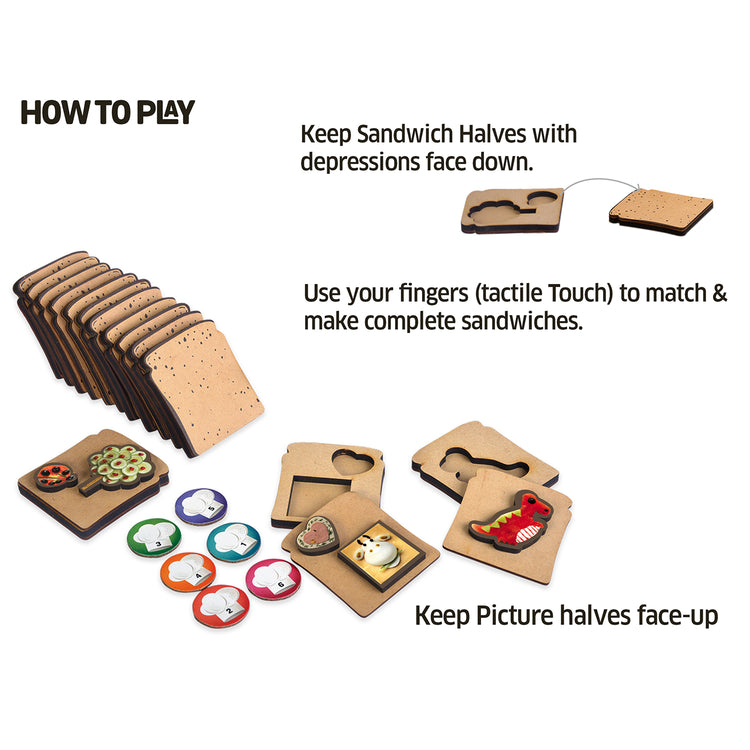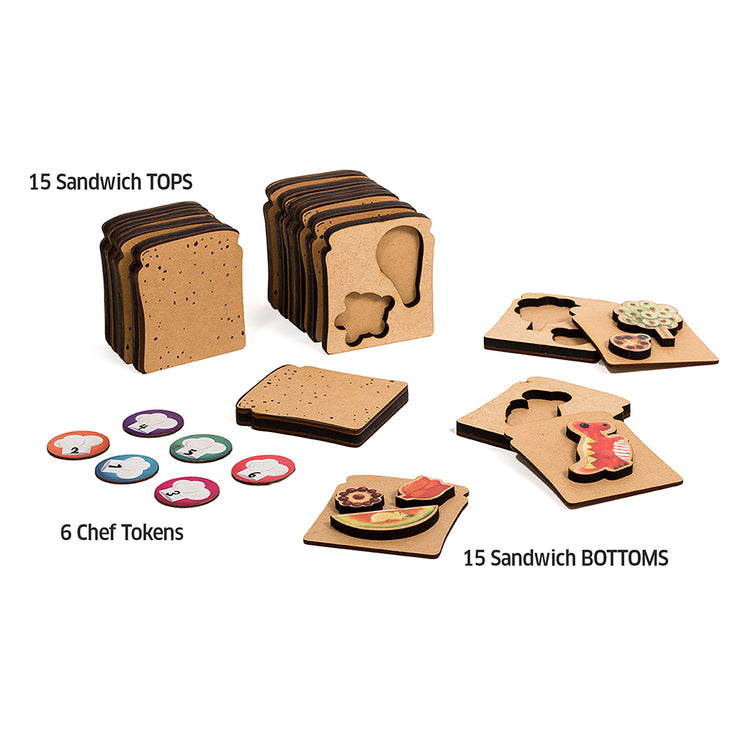 The Details

The Chef Dog is proud of his silly-i-cious sandwich creations. But, just before he has a chance to deliver his order of 6, the monkey has managed his mischief. The sandwiches have come apart. Help the Chef to put them back together in the right combinations.

 A fast-paced educational game of shape matching and memory. A strategic game of touch and feel with 15 pairs. Feel the depressions with your fingers and match them to the correct bread piece. Focus on the shapes and positions to make yummy sandwiches.

Sturdy sandwiches and delightful food creations are bound to make you hungry. Sandwiches include photos of real, creative, and healthy lunches worth munchin'.
How to Play?

- Spread all the 40 bread slices on the table, separate the top and bottom halves.
- Keep the top half of the sandwiches face down. The bottom half of the sandwiches which have the raised shapes must be placed face up.
- Shuffle them around the table so no one knows which halves match.
- There is no taking turns in this game; everyone plays together as fast as they can.
- Announce "Ready, get set go" and grab a top part of a sandwich.
- Do not turn it over but use your fingers to feel the shapes that have been punched out and create a depression. Pay attention to the number of depressions, their shapes, and their positions. Look for the bread slice that will match and correctly fit into this slice, completing a sandwich.
- Continue playing to find more matching pieces to complete the sandwiches.

For younger children play a game of memory or simple matching.


What's in the Box?

30 MDF Bread Slices, 6 Chef Hat Tokens, Game Guide.
Product Specifications

Box measures (cm): 26.7 x 21.6 x 4.6

Weight (g):904
FAMILY FUN
A fast paced, strategy game of touch and feel. Easily adaptable to varying levels of ability and promotes development in a fun way. Promotes connection, social interaction and healthy competition while playing together.
BEST GIFT FOR KIDS Age 3-7
A super fun game that promotes learning through play. Play alone by yourself or with friends & family. Creative sandwiches have pictures of real food, inspire kids to create their food art in the kitchen.
QUALITY GUARANTEE
We want you to be happy and satisfied with your purchase from Chalk and Chuckles. If we do not meet your expectations in either quality or design, please contact our customer service.
WORKING TOWARDS SUSTAINABILITY
We make our products from recycled board & print with non-toxic Soy inks. We try to minimise the use of plastic in our packaging. We are now striving to reduce our box sizes. Smaller boxes means less emissions, less packaging & a lower carbon footprint.
OUR PROMISE
1. Potential

2. Goodness

3. Quality
Each of our games has the POTENTIAL to bring out the best in every child. Play to your strengths or play to build new strengths, we've got a game for everyone. You are what you play!
Join us in the playful revolution of raising the next generation of leaders. Leaders who are not only smart & intelligent but also care about the COMMON GOOD and the world we live in! Our games reflect our commitment to family, community, cooperation, diversity, and empathy.
We are committed to creating sustainable, safe, and non-toxic toys that meet all the Indian & International quality standards. We care about the products we deliver to you, and equally about the world we all live in. Our products are designed with such care that they can be passed on and used repeatedly.