Tell the Time Clock Puzzle
Busy Bear's Day
Regular price

Rs. 1,299.00

Regular price

Sale price

Rs. 1,299.00
3-7 YEARS | 1 or more PLAYERS
Home, Preschools, Classrooms
7 Days Easy Returns* T&C's apply
Free shipping above Rs.500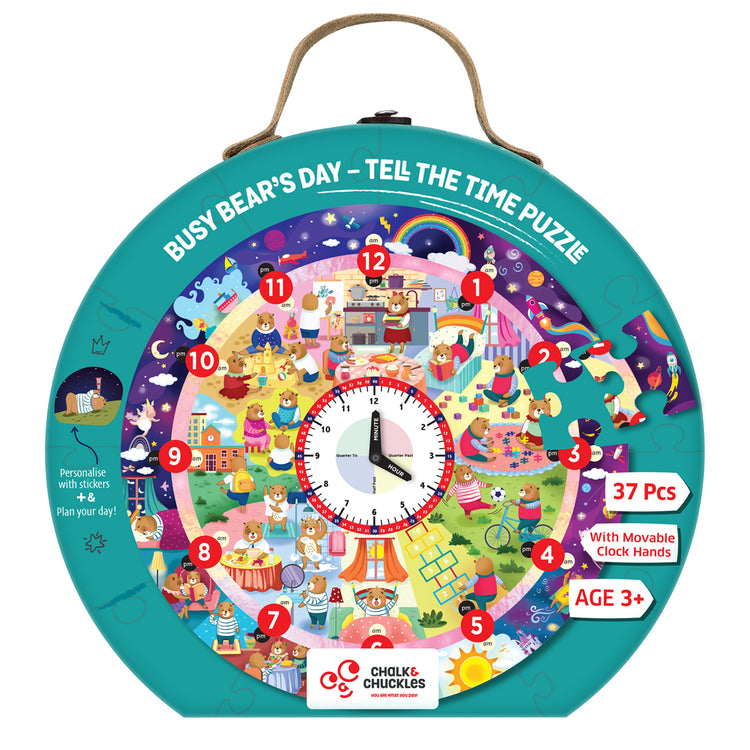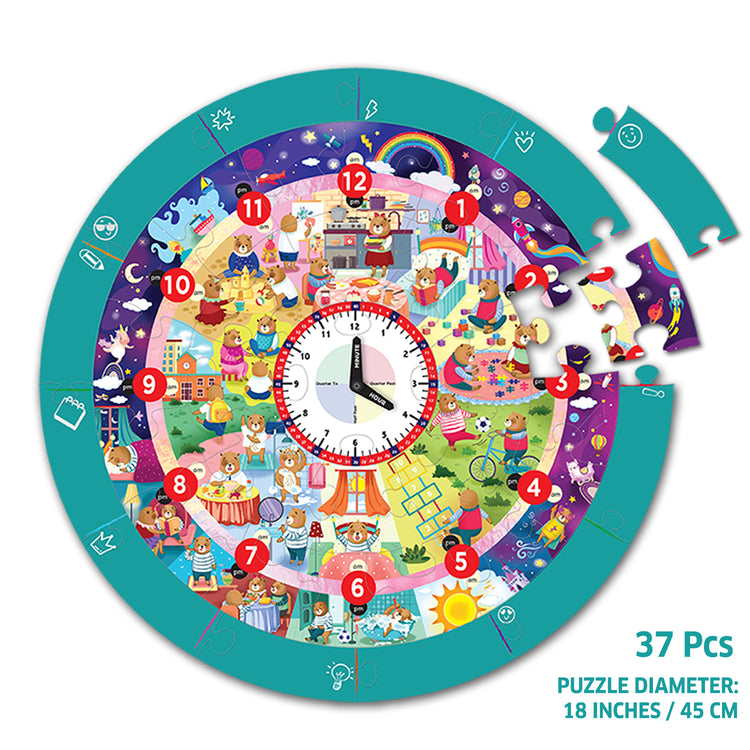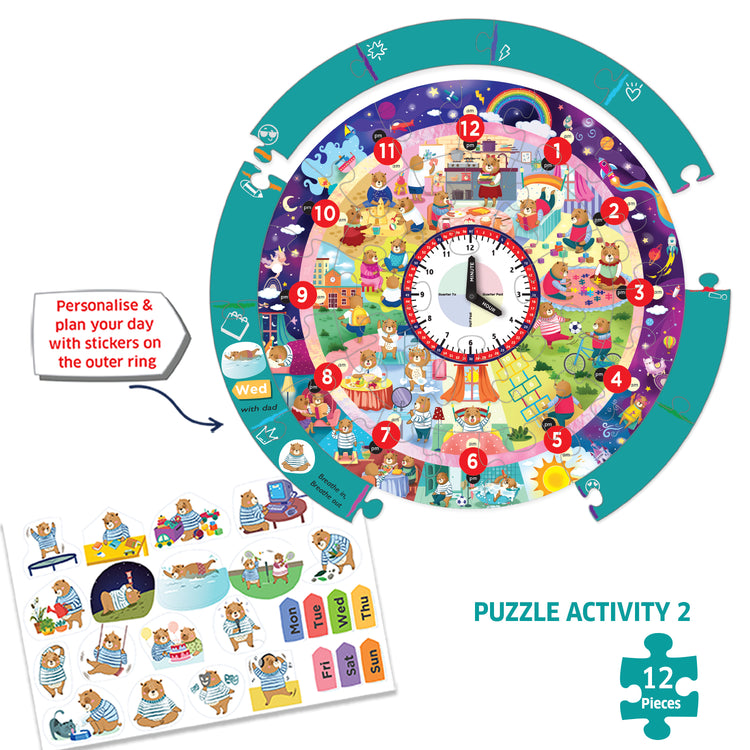 The Details

Busy Bear's Day clock puzzle is an engaging, fun way to teach time-telling to kids. 


The puzzle's beautiful, bright and original artwork helps children follow the Bear's routine and activities throughout the day. Enjoy the sparkle and shimmer with Holographic foil print. Kids can move the sturdy hour and minute hands for an innovative, educational experience.

Building and playing with the clock puzzle will make children curious about time. They'll learn to visualise time, read the clock and tell the time. There's more... Number recognition, Counting from 1 to 60, Skip count of 5, Understanding beginning concepts of fractions, and the difference between a.m. and p.m.

37 Piece Round Puzzle measures 18 inches/ 45 cm in diameter. It has big, thick & sturdy pieces (2.5 mm). 

This puzzle makes for a great birthday gift for children. It comes in an attractive round suitcase gift box.
How to Play?

Puzzle Game with 2 Activities in a Box.
1. First, piece together the 25-piece puzzle. Then put the 12 pieces for the outer ring.
2. Personalise your day with 24 stickers.
Use a wipe erasable marker to write your schedule. (Use a damp cloth to erase.)
What's in the Box?

37 Jigsaw Pieces and 24 Stickers in an attractive round gift box.
Product Specifications

Box measures (cm): 25 x 25 x 7

Weight (g):570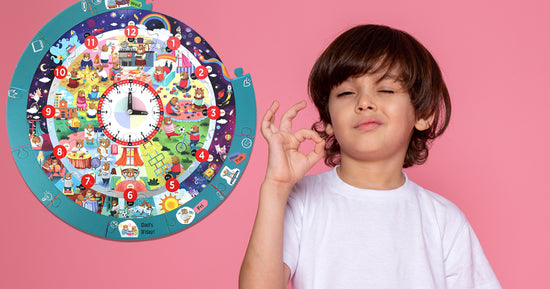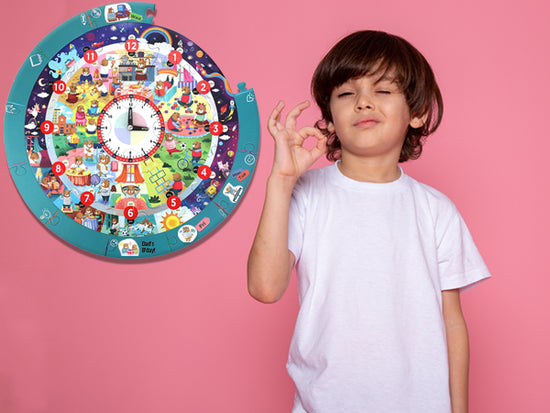 2 ACTIVITIES IN A BOX
Follow the hours of the day and night with the activities of the Bear and his friends. A puzzle that you can personalise. Makes learning about time exciting & engaging.
BEST GIFT EVER
A fun puzzle and a great gift for 3 to 8 years old. Comes in a Round Suitcase Gift Box 10"
SO MUCH TO LEARN...
Learning to read the clock remains an essential life & educational skill despite digital clocks.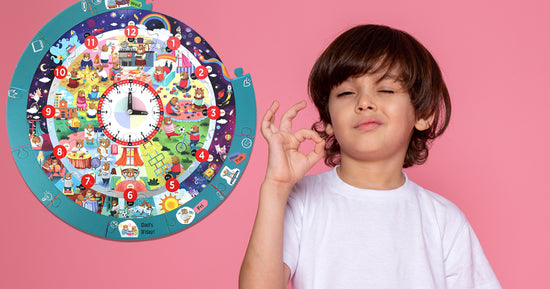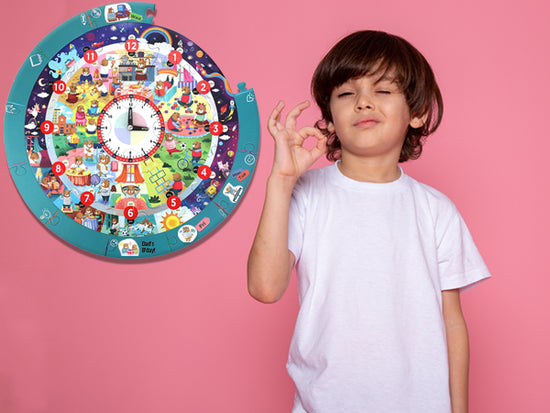 QUALITY GUARANTEE
We want you to be happy and satisfied with your purchase from Chalk and Chuckles. If we do not meet your expectations in either quality or design, please contact our customer service.
WORKING TOWARDS SUSTAINABILITY
We make our products from recycled board & print with non-toxic Soy inks. We try to minimise the use of plastic in our packaging. We are now striving to reduce our box sizes. Smaller boxes means less emissions, less packaging & a lower carbon footprint.
OUR PROMISE
1. Potential

2. Goodness

3. Quality
Each of our games has the POTENTIAL to bring out the best in every child. Play to your strengths or play to build new strengths, we've got a game for everyone. You are what you play!
Join us in the playful revolution of raising the next generation of leaders. Leaders who are not only smart & intelligent but also care about the COMMON GOOD and the world we live in! Our games reflect our commitment to family, community, cooperation, diversity, and empathy.
We are committed to creating sustainable, safe, and non-toxic toys that meet all the Indian & International quality standards. We care about the products we deliver to you, and equally about the world we all live in. Our products are designed with such care that they can be passed on and used repeatedly.